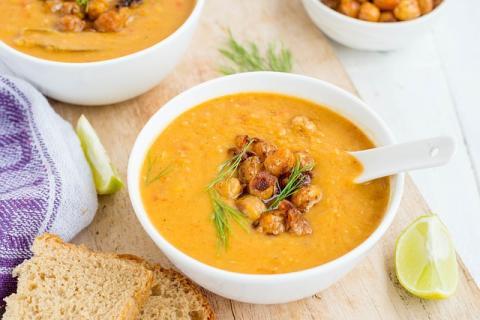 Need something colorful, warm, healthy, and hearty this fall? Try this scrumptious sweet potato pumpkin soup recipe! Sweet potato is high in vitamins A, C, and E —which is awesome for supporting a healthy immune system. Pumpkin contains a great source of vitamin A for aiding in eye-vision, as well as potassium for helping out the body's nervous system. This soup is not only good, it's good for you!
Takes 30-45 minutes
Serves 5-6 bowls
Ingredients:
2 cups of cubed, roasted pumpkin
1 large roasted, peeled (or with skin if desired), cubed sweet potato
2 tablespoons cooking oil or butter 
2 shallots, sliced
2 teaspoons curry powder
6 cups of veggie broth
2 teaspoons honey
1⁄2 tablespoon cinnamon
salt and pepper to taste
1 1/2 cups roasted hazelnuts (optional)
Pieces of fresh coriander (optional)
Instructions:
Purée the roasted, cubed, pumpkin and sweet potato in food processor until soft and mushy. In a large saucepan, melt the butter or add in oil on medium heat. Sautee shallot slices in sauce pan for 5 minutes.  Place puréed pumpkin and sweet potato into pan along with curry powder and veggie broth. Add in honey and cinnamon. Cook on medium heat for 15-20 minutes. Season with salt and pepper as needed. Allow to cool for 5 minutes and place in bowls. Optionally, you can sprinkle roasted hazelnuts with fresh coriander pieces in the center of your soup for a delicious and crunchy garnish. Yum!
While searching for different fall recipes for pumpkin, I thought to myself—why not create my own, but with sweet potato? Roasting fresh pumpkin and sweet potato makes it easier to peel and cut into cubes, or you can just purchase them already cubed and canned. I then experimented by adding in other ingredients I thought would greatly complement the pumpkin and sweet potato flavors. Lo and behold, the soup was a success! Experimenting with this recipe was super fun, and the awesome thing is that you can add and take away flavors to your liking as you experiment with it too. Enjoy, friends!