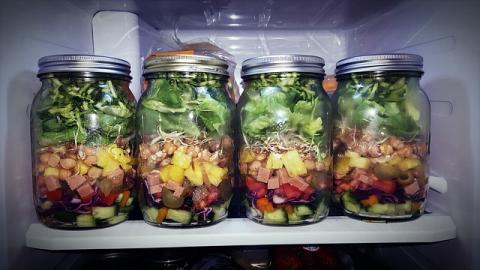 While the start of a new year might seem like a good time to start swapping less-than-healthy routines for better options, spring is actually the best time for a fresh start. Why? The world is becoming green again here in North America, with seasonal favorites like radishes, sweet peas, and asparagus coming to the market. The daylight hours are also longer, meaning there's more time for you to pack your lunch in the morning without having to see the nighttime stars. Plus, what's better than vegetables after a winter of hearty stews and soups?
Head to your local market to pick up spring's bounty, then get into the kitchen to make your lunch springtime sweet. Here's how:
1. Sometimes the best way to freshen your lunches is to swap out stained Tupperware for mason jars. Not only is plastic unhealthy, but oftentimes dressings and sauces can leak, meaning a messy purse or desk for you. Look for mason jars at your local grocery store, or simply save jam jars after use.
2. Get creative. Sure, you can make a salad out of iceberg lettuce and drop a few tomato slices on top, but why not make something tastier and more interesting to eat? Using your mason jar, begin to layer vegetables. Try spinach, arugula, bell peppers, cucumbers, carrots, beets, or other in-season vegetables. For more staying power, throw in cooked quinoa or roasted nuts. Once you've filled the jar, screw on the cap and you're good to go. When lunchtime comes around, simply shake the jar to mix your ingredients.
3. Avocado toast may be all the rage, and bologna sandwiches are clearly gone (and not to be missed), but that doesn't mean sandwiches are all or nothing! Use crisp, spring vegetables to enliven a simple sandwich. Radishes might not sound like a great toast topper, but slice them thin, layer with arugula or watercress, spread on some ghee or grass-fed butter, and you've got one delicious sandwich. Asparagus is another popular spring vegetable–try gently steaming a few strands before adding to a thick baguette spread with goat cheese. Trust us, this is better than your school lunches that mom packed.
4. Grains, when prepared lightly, can make an invigorating meal–and for more than just breakfast. Try preparing a savory oatmeal or quinoa by boiling your grains in water, then topping with a soft-boiled egg, radishes, pea shoots or beets. Add a cheese, like Parmesan, asiago, or gouda, and finish with sliced scallions or parsley. This breakfast can be easily transported to work. Hearty grains keep you feeling satisfied all afternoon.
5. This dish is a classic, but rightly so: it's packed full of protein, vegetables, and good fats to keep you full. We're talking about quiche. Prepare quiche the night before by simply sautéing whatever vegetables you have on hand, scrambling six eggs, and then pouring the mixture into a pie tin. Top with an aged cheese and bake until the edges are perfectly brown. This springtime dish will have your coworkers jealous–guaranteed. Need some inspiration? Try this gluten-free quiche recipe.