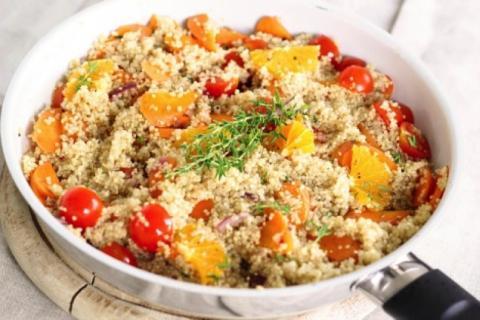 If you haven't heard of quinoa, the superfood, by now, it's time to get out from underneath that rock. For those of you who are still unsure of how to say it (let alone spell it), it's pronounced "keen-wah."
This complete protein is actually a seed that hails from the Andes Mountains, and is eaten much like rice. It has a reputation for being a naturally gluten-free, fibrous staple for health nuts. Personally, I love it for its quick and easy preparation, fun texture and taste, versatility, and health benefits.
However, I've heard numerous people complain that they're far from being fans of quinoa because, whenever they've attempted to cook it, the end results were crunchy. I've never had this problem, and I think I know why—I've always toasted my quinoa prior to adding liquid. Before you give up on quinoa entirely, try my cooking method for super flavorful, anything but al dente quinoa!
Ingredients:
1 tbsp. olive oil
4 garlic cloves, minced
1 c. quinoa
2 c. vegetable broth
Directions:
In a medium saucepan, over medium-low heat, cook and stir garlic with oil for about 1 minute (be careful; garlic burns quickly!).
Next, add quinoa to saucepan. Toast and stir quinoa in garlic oil for about 3 minutes.
Then, stir in vegetable broth. Bring to a boil. Once boiling, cover the quinoa, and reduce heat to low. Simmer for 20 minutes, or until liquid is fully absorbed.
After allowing quinoa to cool a bit, serve it up! It's great on its own, as a salad, or paired with Asian, Italian, or Mexican flavors