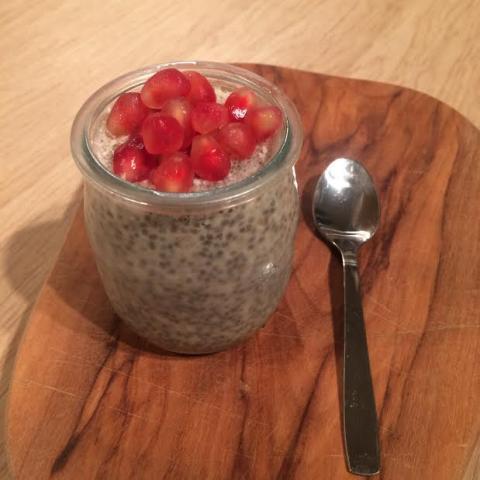 If you're like me and generally need to round out a meal with a naturally sweet treat that does not leave you craving more, this is the recipe for you! Chia seeds, when mixed with liquids, become gelatinous – meaning that a little go a long way to fill you up. There are many health benefits to eating chia seeds, which are gluten-free and contain lots of protein, fiber, and healthy omega 3 fats.
This simple chia pudding, made with my favorite natural sugar and featuring a little crunch of shredded coconut, serves two. This recipe is my favorite because it is easily adapted; try other forms of natural sugar, almond milk, add different spices, or a few tablespoons of cocoa powder in the place of the shredded coconut. If you're not gluten-free, regular milk works, too!
Gluten-free Vegan Coconut Chia Pudding
Serves two
1½ cups sugar free coconut (drinking) milk
¼ cup chia seeds
1/8 cup shredded coconut
3 tbsp maple syrup
½ tsp vanilla extract
¼ tsp sea salt
*Optional:
¼ tsp cinnamon
¼ tsp nutmeg
Mix all ingredients in a large bowl and let set in the fridge for at least 30 minutes.
Serve and enjoy!
Adding a bit of chopped fruit or pomegranate seeds on top can make this recipe a lovely little dessert with friends or an energizing breakfast.