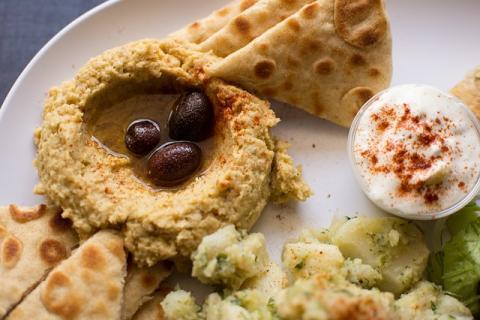 Whether you're a child athlete, a studying, starving college student, or an office worker, we can all relate to that midday sluggish feeling that comes from our energy levels hitting zero. I know you know that opting for a handful of M&Ms is only going to worsen the slump, and cause a catastrophic energy crash later on. So, what can you do for a boost of energy? You can prepare healthy, energy-dense snacks that are surprisingly satisfying to help get you through the day and your tasks at hand. These five portable snacks are perfect for keeping anyone on-the-go going.
Bananas with Almond Butter: What better way to make a gluten-free sandwich than by sandwiching almond butter (or peanut butter) in between banana halves (or apple slices)? I've loved doing this ever since I gave up gluten. Just pack an organic banana and one of those handy little almond butter packets for a delightful treat. The natural sweetness and protein punch will surely calm that growling tummy.
Veggie Roll-Ups: You have to make these simply because they are so darn cute. To make this pinwheel snack, use a gluten-free wrap or tortilla, Dijon mustard, mashed avocado (healthy fats are important, people!), spinach, and tomato. Roll it all up, and cut into pieces. That's one easy after-school snack.
Strawberry Banana Smoothie: Believe it or not, snacks don't always have to be solid food. Smoothies are a great way to fill up without much time or effort. All you need is apple juice, some frozen strawberries, and a banana to create a delicious drink that'll make you question how that smoothie place manages to charge so much for something so simple.
Spiced Crispy Chickpeas: Fun fact: I used to eat entire cans of chickpeas, or garbanzo beans, by myself, as a child. If you're looking for a healthy substitute for salty chips, munch on these! Drain and rinse a can of chickpeas. Then, pat them dry. Over medium heat, add them to an oiled skillet. Sprinkle them with salt, pepper, cumin, and cayenne. Stir them around, until they're crisp and warm. Yum!
Veggies and Hummus: Another way to get your chickpea fix is to eat hummus! Dunk some carrots and/or broccoli florets into your favorite hummus dip for a hit of fiber. You can even make your own hummus, considering how fast it is. If you happen to have chickpeas, tahini (sesame seed spread), and olive oil, go for it. Just think of all the different flavorings you could add, and come up with.