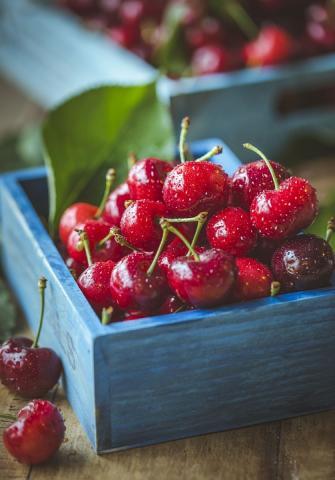 I've recently cut some very specific foods out of my diet, and it's led me to look for cravings satisfiers in unexpected places.  For example, I can no longer munch at night—I've eliminated cane sugar, corn, and cow's milk (among other things), and that pretty much rules out junk foods, sweets, and processed foods…you know, all the things that you reach for after 8 p.m. when you really shouldn't.
But I still get the urge to have something sweet or salty after I finish dinner and I'm kicked back on the couch.  This recipe is perfect because it satisfies all my cravings: the almond butter is salty; the sunflower seeds give crunch; the cherries pop with tartness; the maple syrup lends sweetness; and the oats and quinoa provide fiber and protein, which keeps you feeling full (the healthy fat from the almond butter helps, too!).  I've honestly not even missed chocolate since I started making this recipe.  They've become a staple in our freezer (my husband loves them, too!) and I usually make a new batch before we've even finished the first.  They're seriously that perfect.
These are a great snack anytime—pre- or post-workout, after school or work, as dessert, with mid-morning tea…Did I mention they're also vegan, vegetarian, and gluten free?  Add to that the fact that they're no-bake, portable, and fast…and you'll be making room for these in your freezer, too.
The Perfect Healthy Snack
It's not just how these satisfy all the cravings that makes them my new favorite snack food.  Or even that they're convenient to grab on-the-go and oh-so-easy to make.  They're also full of superfood ingredients that do all kinds of good stuff for your body.
Here's the nutrient breakdown for this recipe, if you make 20 bites:
Not a low-fat, low-calorie snack, but not too bad for how satiating they are!  And you get a little protein, iron, and fiber, to boot.  Definitely an improvement over processed, store-bought snacks.  And if you have leftover quinoa around, they literally take 5 minutes to make, 90% of which is rolling out the bites.  (The payoff? Your hands will be extra soft from the natural oils in the almond butter and sunflower seeds!)
Cherry Granola Bites
Servings: about 20
Ingredients
1 cup rolled oats
1 cup cooked quinoa
1/3 cup almond butter
heaping 1/3 cup dried cherries
1/4 cup sunflower seeds
1/4 cup maple syrup
1 teaspoon vanilla
3/4 teaspoon cinnamon
1/8 teaspoon nutmeg
1/4 teaspoon sea salt
Instructions
Place all ingredients in a food processor or blender.  Mix until a dough-like texture forms.  (You can just mix these by hand in a bowl if you prefer, but the ingredients won't be incorporated as well.)
Using your hands, roll the dough into balls, about an inch-and-a-half in size (or whatever size you prefer).  Perfection is not the goal here!  Just quickly press them into decently round shapes.  (Alternatively, slow down, take your time, and make this a meditative experience.  Breathe deeply, and focus on how the balls feel in your hands.  It can be soothing, like a stress ball.)
Place the rolled balls onto a small, parchment paper-lined baking sheet (or something similar) and pop them in the freezer for a couple of hours.
Notes
You can toast the sunflower seeds first if you're feelin' fancy.
You can substitute dried cranberries, raisins, or other dried fruit for the cherries.  (Just keep an eye out for added sugar in these!)
You can substitute peanut butter or other nut butters for the almond butter.
You can add other mix-ins, like coconut or chia seeds.  Experiment!
You can use other spices, or omit them altogether.
Using leftover quinoa is a great idea (although if it was made with garlic or other spices it could give an odd flavor to these).  If I'm making quinoa specifically for this, I throw half a cup quinoa (rinsed) and 3/4 cup water in a pot on the stove. Bring to a boil, reduce to a low simmer and cover with a tight lid.  Once water has cooked off and quinoa has tails (add water a couple tablespoons at a time if it needs to cook longer)—usually about 13-17 minutes, but start checking around 10 minutes if you're not sure—take it off the heat and let it steam with the lid on for 5 minutes.  Then fluff with a fork before measuring and adding to the food processor.  You'll have a little extra—just enough for a side serving (add soy sauce, ginger, and lime juice) or add some veggies to make it a small meal (broccoli, peppers, and onions; or avocado, corn, and tomatoes are both good combos).
For another superfood bites snack, check out this Ayurveda recipe: Ojas Balls!