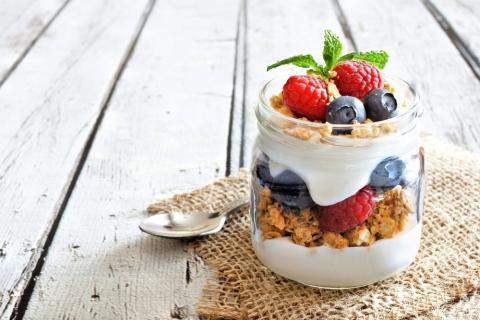 It's getting colder, and comfort foods seem to be everywhere. Those comfort foods that are full of sodium and/or loaded with pounds of sugar are staring you down; what do you do? I'll tell ya what you do—you get out of that situation, as fast as you can. I know it can be difficult, but you don't have to succumb to those temptations that are lurking at every corner. I'm not just saying that, either. For me, there are two food groups—sweet and salty. Whenever I eat something savory, it has to be promptly followed by something sweet. You wouldn't want me to feel imbalanced, would you? For those of you who get serious sweet and salty cravings, but are trying to keep your summer figure for as long as possible, I know five foods that'll kick your cravings without packing on the pounds.
Graham Crackers: I'd advise you to have these on hand. I'm not sure that a day ever goes by where I don't have a hankering for a nice, warm, ooey, gooey chocolate chip cookie (sorry, too much?). When that time of day arrives, opt for some less sugary (and ultimately healthier), and yet still sweet, graham crackers. I recently came across some gluten-free, vegan ones, and they do the trick.
Pistachios: I have fond, fond memories of eating pistachios. As a child, I'd eat my weight in these salty, shelled nuts, while watching Barney. One of the many good things about pistachios is that the shells should slow you down, and prevent overeating (unless you spent a small fortune on the pre-shelled ones). After a commercial featuring fatty fast food French fries lights up your TV screen, you can turn to crunchy pistachios to get the craving satisfied. Yay for savory, protein-packed, healthy fat-filled tree nuts!
Popcorn: Skip the chips, and pass the popcorn. I used to always pop my own popcorn in this cool 1950s popcorn maker whenever I needed something salty to snack on. You'd be amazed by how many calories and how much fat you save by choosing light, airy popcorn. All you have to do is toss fresh popcorn with your seasonings of choice for a boost of flavor. It's beneficial to slow down your sodium intake, in order to decrease water retention and high blood pressure.
Pretzels: This is another good one for a salty swap. Forget about that unhealthy go-to food that you used to munch on because you thought it was the only way to scratch that salty itch. Pretzels may look like they pack a punch of salt (I mean you can see large salt crystals on them), but they're actually not too bad from a nutritional standpoint. They probably have fewer calories than whatever you've been eating too. I'd recommend buying a bag of vegan, gluten-free buffalo wing-flavored pretzel sticks because they're an easy, fast, and surprisingly tasty option.
Yogurt with Fresh Fruit: Plain yogurt accompanied by an array of naturally sweet fruits is always going to be a splendid treat that'll calm that giant sweet tooth. Eating foods with no added sugars is great because consuming too much sugar is said to be linked to an increased risk of cancer and excess weight-related health problems. I've fallen in love with creamy, coconut-based yogurt alternatives lately (and I'm not even a coconut fan), and pairing them with strawberries, blueberries, bananas, etc. is a perfectly sweet way to start your day, or end a meal.