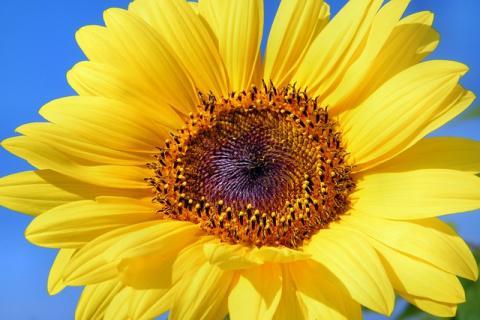 The sunflower is native to North America and was cultivated by the Native Americans in approximately 3000 B.C.E. in what is now New Mexico and Arizona. The sunflower is believed to be older than corn. They developed the single flowered plant with seeds that are black, white, red and multi-colored stripes of white and black. It was a common food throughout the continent: the seed was pounded into flour for cakes, mush and bread. Later, as corn, vegetables, beans and squashes were cultivated, they were mixed with the seed flour. The seeds were eaten as snacks and the oil was squeezed to use in making bread. The plant arrived in England in the 16th Century and was primarily used as an ornamental plant with some medicinal applications. In the early 19th Century, the English patented the process of producing sunflower seed oil. Though an ancient North American food, the seeds were not commercially marketed until that same time by the Russians, whose farmers were growing more than two million acres of the crop.
Sunflower seeds are rich in protein, vitamins, minerals and fatty acids and highly beneficial to promote a healthy addition to the diet. The seeds are an ideal healthy snack with a nutty flavor that makes them a popular treat for children and adults.
If you love sunflower seeds, you're in luck: here are 4 health benefits of the seeds as well as a creative recipe to get even more of the nutrients in your diet:
1.  Sunflower seeds contain high quality amino acids like tryptophan, which is an essential amino acid that is particularly beneficial to young children. It has been found that 100 grams of seeds provide approximately twenty-one grams of protein (which equals 37% of recommended daily intake).
2. Sunflower seeds are one of the richest sources of B-complex vitamins containing niacin, folic acid, vitamin B1 thiamin, vitamin B6 pyridoxine, pantothenic acid and riboflavin. The seed is also a significant source of vitamin E, which is a lipid soluble antioxidant that promotes the health of cell walls and mucus membranes and protects the skin from harmful oxygen-free radicals.
3. Sunflower seeds elevate the activity in the brain, resulting in the reduction of anxiety and neurosis. They are high in folic acid that is essential to DNA synthesis. When given to women who are trying to conceive it can help prevent neural tube defects in the baby.
4. Sunflower seeds are very high in essential minerals like calcium, iron, manganese, zinc, magnesium, selenium and copper. They are vital in the production of red blood cells, bone mineralization, enzyme secretion, hormone production and the regulation of cardiac and skeletal muscle activity.
Sunflower seeds are a nutritious snack and can be used in salads, recipes and desserts.
Crust
Ingredients
1 ½      cups    Crushed sunflower seeds
¼         cup      Sugar
1/3       cup      Butter, melted
Directions
1.         In a small bowl, combine the crumbs and sugar; add butter and blend well. Press onto the bottom and up the sides of an ungreased 9-inch pie plate.
2.         Refrigerate for 30 minutes before filling.
Cream Cheese filling
Ingredients
2          8 oz. packages             Cream cheese
1/3       cup                              Sugar
1          pint                             Heavy whipping cream
Directions
 In a separate bowl whip the heavy whipping cream until it is firm and peaks; then set aside.
Combine cream cheese and sugar.
Fold in whipping cream into cream cheese mixture until completely combined.
Spoon the cream cheese mixture into the crust.
Refrigerate for at least two hours or more.