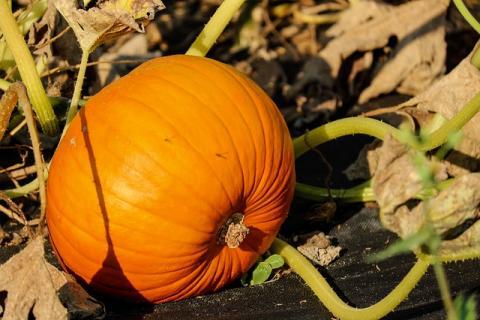 The first day of autumn is quickly approaching and the smell of pumpkin spice will soon be lingering in the air before you know it.
With this in mind it is a great time to tell you about my Pumpkin Pie Puree. I love pumpkin pie, cake, bread, cookies, pancakes, and many other pumpkin based treats of autumn. After harvesting what our garden's pumpkin patch has to offer, I like to make bulk batches of this Pumpkin Pie Puree. When I am ready for baking, the puree is ready to go no matter what the treat I'm baking.
Plain Puree
A plain puree is simple to make! After a warm fire, stoke the coals to be sure they are good and hot. Remove the stem and seeds from the pumpkin as if you were going to carve it, and then cut it into halves. Put about ¼ -1/2 an inch of water in a Dutch oven with your pumpkin, skin side down, and bake for 45 minutes to an hour, or until it is tender through the middle. The baking process is done by placing the Dutch oven directly on top of the coals and covering the whole oven with piping hot coals. This will be your oven.
Once the pumpkin is tender, peel the skin off and mash your pumpkin. You can do this by hand with a masher, with a blender or with a food processor.
Here is where I like to take it a step further and make:
Pumpkin Pie Puree Mix
3 Cups Plain Puree
1 Cup Sugar or Natural Healthier Alternative
1 ½ Teaspoon Cinnamon
1 Teaspoon Ground Cloves
1 Teaspoon All Spice
½ Teaspoon Ginger
½ Teaspoon Vanilla
½ Teaspoon Salt
Combine all ingredients and mix well. Store via canning or other airtight method. The method you choose to store your puree should depend largely on how quickly you will be using it.
From here, I continue with my canning process and store my puree. When you plan on making a pumpkin pie all you will have to do is get your pumpkin puree and add eggs along with evaporated milk and it's ready to go.
Remember this is simply the Pumpkin Pie Puree -- this replaces having to buy canned pumpkin pie mix from the store. You will still need other ingredients of your choice or what the specific recipe calls for (pie crust, chocolate chips, etc.).