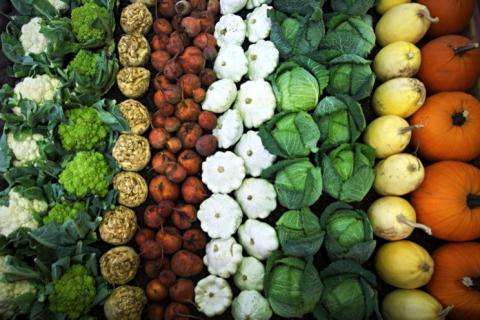 Start off a cold winter day with this hearty breakfast hash! Simply seasoned with just olive oil, chili pepper and salt, this recipe allows each vegetable to shine. Sweet butternut squash is balanced by the mild flavors of cauliflower and potatoes, as well as the slightly bitter flavor of the Brussels sprouts. This blend of veggies would also go well on the side or as ingredients in another meal, but it makes for a delicious and healthy breakfast with the addition of tofu. Since it's so quick and easy to make in large quantities, I suggest inviting some friends over for a festive winter brunch! 
Breakfast Hash with Roasted Winter Vegetables (Vegan Recipe) 
Ingredients:
1 lb Brussels Sprouts
1 medium head of Cauliflower (about 4 cups)
1 small Butternut Squash
1 lb Potatoes
3 Tablespoons Olive Oil
1 block of Extra Firm Tofu (crumbled)
2 teaspoons Chili Powder
Salt & Pepper to taste
Directions:
-Preheat the oven to 475 degrees Fahrenheit.
-Start by washing and chopping the vegetables (for the Brussels sprouts, simply cut each one in half).
-Using a large bowl, toss the vegetables in olive oil before placing on baking sheets and add any salt or pepper that you desire.
-Put the baking sheets in the oven and roast for about 30 minutes, until the veggies are slightly browned.
-When the veggies are finished, remove from the oven and allow them to cool. 
-While those are cooling, crumble the tofu and put it in a large pan with a Tablespoon of oil over medium heat. Cook for about 5 minutes or until the tofu becomes slightly brown.
-Combine the tofu and the vegetables before adding the chili powder, salt and pepper.
-Serve and enjoy!