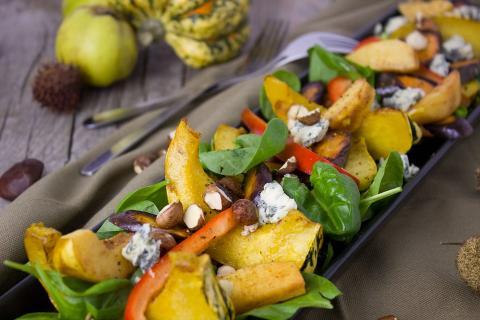 Have you ever thought about hosting a No Waste Dinner Party?  Summertime is all about community…and a no-waste menu dinner party is a great way to celebrate Earth Day, or simply introduce your friends to the concept of sustainability!  You can make it a fun, informative event without getting too lecture-y: plus, everyone is more receptive when they're being fed!  Use everyone's happy mood to open up conversations about sustainable seafood, the truth about expiration dates, the awesomeness of the bulk aisle, and the fate of trashed food.  Consider making a game out of the zero-waste theme and giving away a bottle of sustainable wine to the person who created the smallest carbon footprint en route to your party or to the person with the most creative sustainability tip.
Tips For A Sustainable, No Waste Dinner Party
Zero Waste Dinner Party Dishes
Here are four menus that emphasize using all the parts of the plants and wasting as little as possible.  Feature as many dishes as you like and make sure you explain to guests how your menu highlights ways to limit food waste and eat all the stuff you might normally toss out.  While this menu is a great starting point, remember that there's no contest for the sustainability of eating local and supporting your farmers market.  My local farmers market does live music on summer Wednesdays and everyone brings or buys a picnic to share in the park – what a perfect venue to feature a sustainability menu during National Picnic Month (July)!
Roasted Root Veggies with Pesto
(featuring Radishes & Turnips; roots and tops)
A delicious and easy dish that is oh-so-adaptable, roast whatever root veggies you have on hand: radishes and turnips are perfect together, but don't neglect parsnips, carrots, and beetroot, either.  Garnish this hearty side dish with the pesto made from the tops of the veggies.  Turn it into an entrée instead by serving the roasted veggies atop a bed of fresh greens, goat cheese, pomegranate seeds, and vinaigrette. (Hint: pesto is the perfect no-waste recipe because you can make it with any greens, tops, or herbs you have on hand.  Check out the Pesto Cheat Chart in the above-linked article for a no-fail recipe.)
Roasted Radish & Turnip Salad
Ingredients:
Directions:
While the radishes and turnips are roasting, make the pesto and vinaigrette.  Make the vinaigrette by whisking together 2 tablespoons of pesto with 2 tablespoons of red wine vinegar.  (Dilute with more olive oil or vinegar if needed.  Make more vinaigrette if needed.) 
Toss the greens and pomegranate seeds with the vinaigrette.  Arrange greens on plate and top with roasted radishes and turnips and goat cheese.
Risotto, Soup, & Salad
(featuring Butternut Squash; flesh and seeds)
Butternut squash risotto is a hearty, warming dish.  To contrast its heaviness, serve it with a light spinach salad topped with avocado, dried cranberries, roasted butternut squash seeds, and vinaigrette.  Alternatively, blend the roasted squash seeds into the pesto recipe above and garnish the risotto (vegan version here!) with the pesto.  If risotto sounds a bit too heavy, try a butternut squash soup garnished with roasted squash seeds and served alongside the spinach salad.
Butternut Squash Salad
Ingredients:
3 cups baby spinach (or mixed greens)
Half of a butternut squash, peeled and cubed into 1-inch pieces
1 large avocado (or 2 small)
1/3 cup dried cranberries
1/3 cup roasted butternut squash seeds
¼ cup feta cheese (omit for vegan option)
2 Tbsp balsamic vinegar
2 Tbsp maple syrup
4-6 Tbsp olive oil
Salt & pepper
Directions:
Preheat oven to 400°F.  Spread the 1-inch cubes of butternut squash on a baking sheet and drizzle lightly with a tablespoon or two of olive oil and a sprinkle of salt and pepper.  Bake at 400°F for 20 minutes or until just barely fork tender – not mushy.
While the squash is roasting, also roast the seeds (if you haven't already) and make the vinaigrette: whisk together the balsamic vinegar, maple syrup, 3 Tbsp olive oil, salt, and pepper.
Let the butternut squash cool completely, and then assemble the salad: Toss the spinach with the vinaigrette, dried cranberries, and squash seeds.  Gently mix in the roasted butternut squash.  Add a generous helping of fresh ground pepper and the feta cheese.  Garnish with slices of avocado.
"Steak," Salad, & Greens
(featuring Beets; roots and tops)
Sauté the beet tops like you would chard, kale, or any leafy green (i.e., with generous helpings of lemon juice, minced garlic, salt, and ground black pepper).  Serve alongside vegan beet steaks. Alternatively, serve the roasted beets atop a goat cheese, spinach, arugula, walnut, and vinaigrette salad, or quick pickle the beets before mashing them to a chunky puree consistency and serving atop crusty bread slabs.  You could also make this yummy bowl of vegan beet greens, beets, and japonica rice.
Vegan Beet "Steaks"
Ingredients:
Beets, peeled and scrubbed
Olive oil
Salt & pepper
Optional: goat cheese, pesto, mint, pine nuts
Directions:
Preheat oven to 400°F.  Coat with olive oil and salt, and roast at 400°F for 45-55 minutes, or until fork tender.  Allow beets to cool.
Once beets are cool, slice into half-inch or so slab "steaks."  Garnish with goat cheese, pesto, mint, and/or pine nuts.  Serve alongside sautéed beet tops or atop spinach and arugula.
"Noodles" and Veggies
(featuring Broccoli; stalks and florets)
Use a spiralizer or vegetable peeler to create noodles out of the broccoli stalk.  Use them like you would any pasta, and include the florets – broccoli alfredo or broccoli primavera, perhaps?  If you don't want to use the florets in the "pasta" dish, serve them alongside hummus as an appetizer or in the salad you serve.  If you're trying to incorporate more raw foods into your diet, you don't have to sauté the noodles at all.
Broccoli "Noodles" Primavera
Ingredients:
2 heads broccoli
2-3 cloves garlic, minced
½ cup onion, diced
2 Tbsp lemon juice (or vinegar)
1 Tbsp soy sauce (or liquid aminos)
¼ teaspoon red pepper flakes
¼ cup parmesan cheese
Sesame oil (or olive oil, or other high heat oil)
Salt & pepper
Optional: other veggies, like carrots, snow peas, mini corn, asparagus, or peppers
Directions:
Using a spiralizer or vegetable peeler, turn the broccoli stalks into thin "noodles."  Chop the florets into bite-sized pieces.
Heat the oil over medium heat until shimmering.  Add the garlic, onion, and broccoli noodles, and sauté for 2-3 minutes. 
Add in the chopped broccoli florets, and any other veggies you're using.  (If you use other veggies, you probably won't use all the florets.)
Season with salt, pepper, and red pepper flakes, and cook another 2-3 minutes. 
Add 2 tablespoons of lemon juice (or vinegar) and 1 Tbsp of soy sauce (or liquid aminos), as well as any other desired seasonings, and cook until veggies are done.
Garnish with parmesan cheese.  Mix in tofu when you add the other veggies for a protein-rich entrée.