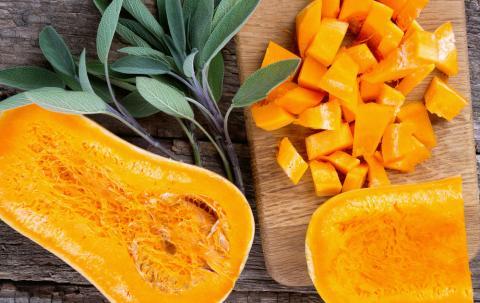 Butternut squash is abundant 'round these parts lately.  It's in our CSA box, at the farmers market, at the grocery store and the farm stand.  I'm not complaining!  Butternut squash is a delicious and versatile ingredient that I enjoy cooking with (even if I still struggle to cut it open sometimes).  I often make some version of a butternut squash risotto, but this recipe is a delightful twist on that.  The use of balsamic vinegar gives this recipe a complex tanginess that contrasts nicely with the sweetness of the caramelized squash.
Full disclosure: this recipe isn't super healthy…there is a good bit of sugar in it, but it is dispersed throughout the whole dish, so it's not too much of a sugar bomb in one serving.  And all the good stuff from the butternut squash compensates for some of that sugar, right?  Let's take a closer look at some of that good stuff…
Why is butternut squash awesome?
Butternut squash is known for its huge vitamin A content (in the form of beta-carotene)—which protects against cancer, macular degeneration, and asthma.  One cup of squash will more than give you your daily RDA of vitamin A!

Butternut squash is also full of vitamin C, an important contributor to immune system health.
Butternut squash boasts high potassium levels—one cup has over 550 mg.  That potassium keeps blood pressure nice and low.
Butternut squash is an excellent source of fiber, which keeps you feeling full longer and keeps your digestive system healthy.  One cup of squash has about 7 grams of fiber.
Butternut squash is a good source of antioxidants, which fight inflammation and related ailments like arthritis and asthma.
Butternut squash keeps your hair, skin, and nails looking good.  The vitamin C and vitamin A content both help skin and hair look good, and vitamin C contributes to collagen production which strengthens hair and skin.
Even the balsamic vinegar in this recipe contributes some health benefits.  I personally am a big fan of all kinds of vinegar (including apple cider), so I was thrilled to find out that balsamic vinegar boosts your health profile in a number of ways—for example, it improves cholesterol, normalizes blood pressure, and stabilizes blood glucose.
Adaptions & Variations: I bet other winter squashes would work, too (though maybe not spaghetti squash).  For a healthier option (or to keep it gluten-free), choose a grain other than the included creamy orzo—you could serve it over rice, farro, millet, or veggie noodles, for example.  Bulk it up with some cubed tofu, sautéed winter greens, or crispy bacon pieces.  Oh, and save your seeds for roasting!
Sweet-n-Sour Butternut Squash
Ingredients
about 4 cups butternut squash
1/2 cup balsamic vinegar
3/4 cup sugar
3/4 cup chopped onion or shallot
4 garlic cloves, minced
2 tablespoons fresh rosemary leaves, minced
salt
pepper
optional: pinch of cayenne
Directions
In a wok or large skillet with lid, heat the sugar and 2-3 tablespoons of water over medium-low heat.  Cook and stir until the sugar is a bubbly liquid—then cook another couple minutes.  Look for a light caramel color.  Once reached, remove the pan from the heat.
In a separate bowl, mix the balsamic vinegar with 1/2 cup water.  Carefully add this to the caramel and place the pan over medium heat.  Cook and stir until combined and slightly thickened, a few minutes.
Add the onion and cook until soft, stirring as needed.  Add the garlic and cook another minute.
Add the butternut squash to the pan, and add salt & pepper (& cayenne, if using).  Cover with a lid and cook on medium-low for 4-5 minutes.
Uncover the pan and stir and cook until the squash is fork tender and sauce is thickened, about 15 minutes.
Stir in the rosemary and serve over Creamy Orzo (recipe below).
Creamy Orzo
Ingredients
2 cups orzo
4-5 cups vegetable broth
1/2 cup chopped onion
3-4 cloves garlic, minced
2 tablespoons olive oil
3 tablespoons softened butter, optional
salt
pepper
Directions
Heat olive oil in a large skillet. When hot, add the onion and cook until soft.
Add the garlic and cook another minute.
Add the orzo and mix until coated with the oil.  Add 3/4 cup water and stir.  Let the liquid cook off, stirring.
Cooking over medium heat, add the vegetable broth a half cup at a time, stirring regularly to prevent sticking and incorporate the broth.  As the broth cooks off, add another half cup, stirring often.
After about 15 minutes, check the orzo for doneness.  You might have to cook as long as 25 minutes, but usually 14-18 minutes works.  When done, mix in the softened butter (and parmesan, if desired!).