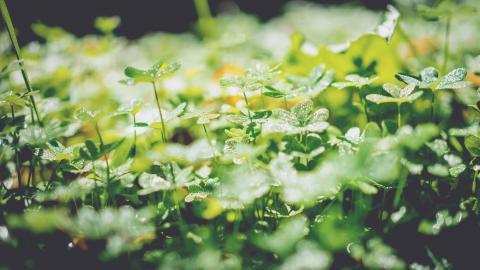 March 17 is St. Patrick's Day, and while it's true you can dye all your food and beverages green and call it a day, we've got some other ideas for how to celebrate the Irish-turned-American holiday.  Some of them involve food of course, but others focus on enjoying the fun festivities of the day!
1. Make rainbow-hued fruit kebabs.
To replicate the ROYGBIV color scheme, use strawberries, cubed melon or oranges, mango or pineapple cubes, kiwi slices, grapes, and blueberries.  These rainbow fruit skewers are beautiful, healthy, and might just lead to a pot of gold…
2. Enjoy a healthy, spectacularly naturally green smoothie.
Maybe the leafy greens aren't exactly a secret ingredient in a green smoothie, but who knew they could taste so good?!  The sweetness from the fruit makes them more than palatable—they're downright delicious.  There are so many recipes for green smoothies—find one you like.
3. Make bell pepper shamrocks.
Slice a bell pepper to create hollow rings—they'll likely have 3 or 4 "compartments," making them look somewhat like four-leaf clovers.  Add a slice of green pepper stem and serve with yummy hummus for a 5-minute St. Patrick's Day themed healthy snack.
4. Listen to traditional Irish music.
Celtic music is pretty distinct.  Turn some on while you cook, clean, or enjoy a nice cold drink.  It's guaranteed to put you in the St. Paddy's mood.
5. Indulge in some algae.
There's no need for chemical-laden food coloring with these recipes.  Algae, a superfood full of good-for-you stuff, gives them their bright green color.
6. Juice something green.
If your green beer drinking days are behind you, why not drink something green and healthy instead?  Stick to a shot of wheatgrass or try juicing something outside the norm—like green beans.
7. Bring some green inside.
Enjoy green the natural way—by bringing some plants into your home.  Whether this means adding some green to your bathroom or making your own terrarium, this is the kind of green you should celebrate all year long.
8. Make and share some naturally green foods.
Whether you're feeling cucumber noodles or pea zucchini mint pasta, dish up a green entrée that boasts its vibrant color from a source of natural whole food ingredients.
9. Enjoy green water.
Another alternative to green beer, add lots of fresh citrus fruits and herbs to your water, and then add a dash of all natural green food coloring to create an interesting looking—yet refreshing—beverage to celebrate the green.
10. Watch Irish dancing.
If you've never seen Irish dancing before, prepare to be amazed.  The rhythm, timing, and precision in these dancers is mesmerizing.  (You can watch the full documentary for free on YouTube.)  You might be so inspired you dance a wee jig yourself!
11. Create chia pudding pots of gold.
This golden chia pudding recipe is super easy to make with just a few ingredients—but the bright gold hue and lumpy chia seeds can give it the look of a heaping pot of gold…especially if served in a short glass jar and accompanied with the aforementioned rainbow fruit kebabs.
12. Host a green dip buffet.
Slice up a bunch of different veggies—carrots, celery, zucchini, broccoli, cauliflower, peppers, apples, cucumber—and any other yummy dippers (like crackers, pretzels, bread, kale).  Then serve them with an array of different green dipping sauces.  Think pesto, mint chutney, green hummus, avocado crema.
13. Look for four leaf clovers.
If you have a clover patch near you, spend some time looking for four leaf clovers.  If you know a child, bring him or her along to help.  If you find any, make sure to teach the child how to press it for safekeeping.