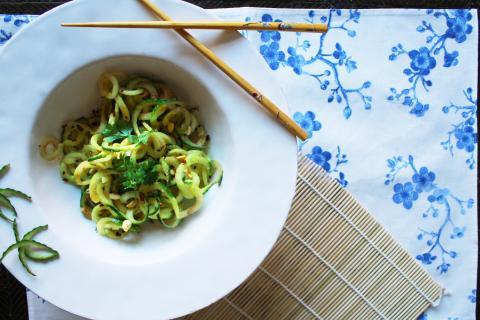 Do you want to naturally support your body in staying cool during the hot summer months?  If so, eat more cucumbers. The expression 'cool as a cucumber' originates from the fact that when on the vine, a cucumber's interior flesh is 20 degrees cooler than the outside temperature, even on a hot day. Cucumbers are, after all, over 90% water. In addition to being cooling, they're also hydrating, particularly when eaten raw.
I've always found it impossible not to love cucumbers, but the recipe I'm sharing today led to many more in my life. It's a beautifully simple, healthy salad that can serve as a full meal. Cucumber's subtle, fresh flavor is combined with peppery bok choy and a tangy peanut sauce. Shrimp is a delicious addition here if you'd like a more substantial meal, but this salad is surprisingly satisfying on its own due to the complexity of the sauce. Either way, this is a wonderful dish for those of us who want to keep our cool, but still like a little spice.
When putting this together, I cut the cucumbers into 'noodles' with a spiralizer, which makes prepping effortless. Just trim the cucumber's short ends, place it center aligned in the spiralizer, press to secure, turn the handle, and you have cucumber noodles. If you don't have a spiralizer, are great at slicing, or want to become great at slicing, try a julienne cut. Regardless of how it's sliced, I prefer to use the whole vegetable as opposed to peeling it. Remove the peel if you'd like a more elegant dish with a more consistent texture, or if you're using conventional produce. And by all means, serve this immediately after you're done preparing it. Because of the high water content in the cucumbers, it will get soggy if left sitting, and the flavor of the sauce will diminish. 
The ancient system of Ayurveda favors gently cooked foods, except in the summer, when raw is acceptable.  Although Julia Child made a great case for cooking cucumbers, it turns out there's interesting scientific reason to eat them and other summer vegetables raw when they're in season. Recent research found that microbes that digest raw foods are highest in the human gut during the summer.
My innate wisdom is closely intertwined with cucumbers. I must have sensed their soothing effect on my body when, as a child, I devoured generous portions during hot summers. Over time, my food journey developed to include sojourns into emotional eating, nutritionism, dietary dogma, and politics. Then a much welcomed realization came when the taste of a cucumber reminded me that long before any of that, I possessed the innate wisdom to know what my body needed. Health speaks in a small voice that exists inside of all of us, if we can get quiet and listen.
Summer Cucumber Noodles with Tangy Peanut Sauce
Serves 4
Ingredients
1½ pounds seedless cucumbers (such as English, Armenian, or Persian)
½ pound standard bok choy (or 1 medium baby bok choy for a more subtle flavor)
For the sauce:
¼ cup peanut butter
1 tablespoon brown rice vinegar
1 tablespoon grated fresh ginger
1 tablespoon tamari sauce
1 clove garlic, smashed with the back of a chef's (large) knife
1 tablespoon lime juice (about ½ of a lime)
2 teaspoons maple syrup
¼ teaspoon toasted sesame oil
⅛ teaspoon five-spice powder
1 drop food grade lemongrass essential oil
pinch of sea salt
For the garnish:
¼ cup dried shredded coconut, toasted
¼ cup chopped cilantro
3-4 scallions, chopped
¼ cup chopped peanuts
¼ cup white or black sesame seeds, or a combination of both
Directions
Toast the coconut in a skillet on medium low heat, stirring frequently, for about four minutes, until the color begins to change to a golden yellow. Remove from the heat and set aside.
Cut the cucumbers into noodles using a spiralizer or julienne into long strips. Transfer them to a cutting board or other flat workspace covered with a paper towel. Lightly press another paper towel atop the cucumbers to absorb any excess water before placing them in a large bowl. Julienne the bok choy and add it to the bowl. Toss the vegetables to combine and set aside.
Place all the sauce ingredients in a food processor and pulse until smooth.  Pour the sauce over the vegetables and toss, coating them evenly. Add the coconut and toss again. Transfer to serving bowls and top each portion with cilantro, scallions, peanuts, and sesame seeds. Serve immediately.