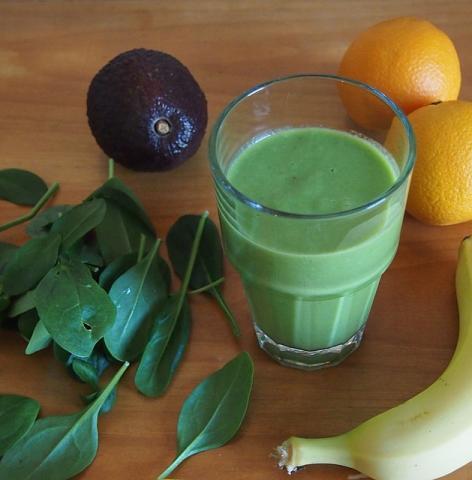 Green smoothies might remind you of swamp water, algae, or other green, soupy liquid, but in actuality, they're delicious, nutritious, and a great way to start your day. Green smoothies aren't a new concept–simply search #greensmoothie on Instagram and you'll easily pull up more than 1.2 million posts. That said, green smoothies can turn out terrific, reminiscent of a virgin piña colada, or they can taste like the aforementioned swampy green soup. Here's how to do it right:
The Classic Green Smoothie
Ingredients
Banana
Blueberries, strawberries, or blackberries
Almond milk
Almond butter
Spinach or kale leaves
Protein powder of choice
Place 1 cup spinach or kale leaves, 1 banana, 1/2 cup of mixed berries, 1 scoop protein powder of choice (I prefer Tera's Whey), and 1 tbsp almond butter in blender (in listed order to ensure the green leafy vegetables are thoroughly blended!) Add 1 cup almond milk. Blend.
Enjoy!
Tropical Coconut Green Smoothie
Ingredients
Pineapple
Shredded coconut
Almond milk
Vanilla protein powder of choice
Coconut butter or coconut manna
Spinach
Place 1 cup pineapple, 1 cup spinach, 1 tbsp coconut butter or coconut manna, and vanilla protein powder in blender.
Blend and pour into glass. Sprinkle 2 tbsp of shredded coconut on top and serve cold.
Creamy Chocolate Dream Green Smoothie
Ingredients
Banana
Avocado
Almond milk
Chocolate protein powder of choice
Ice
Place 1 banana, 1/2 avocado, and chocolate protein powder in blender. Add 1 cup almond milk and blend. You may wish to add ice to make the smoothie colder. Enjoy!
While the use of banana, pineapple, or other sweet fruits ensures that any potentially bitter kale greens can turn your sweet smoothie into more of a savory meal, feel free to use whatever fruits and vegetables you have on hand. A good rule of thumb is to use 1 serving of fruit (1 banana, 1 pear, 1 mango, 1 cup of pineapple) to 2-3 cups of leafy greens (spinach, Swiss chard, kale, arugula, dandelion greens). Further additions can be added to best complement your nutritional needs. For example, combine a few of the following items to create your perfect blend.
The only rule? Add something green to your smoothie!
Carbohydrates
banana
mango
pineapple
peach
apple
pear
berries
melon
canned or fresh pumpkin
Fats
almond butter
peanut butter
flaxseed
coconut milk
nuts
avocado
Protein
whey protein
brown rice protein
pea protein
yogurt
hemp seeds
Superfoods and Spices
ginger
turmeric
cayenne
Reishi powder
Spirulina
chlorella
goji berries
cacao nibs