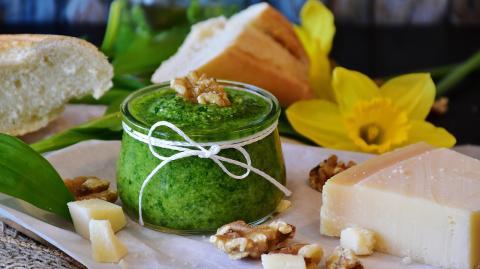 Eating fresh, organic, local produce is a great way to make sure you're eating food that is at its nutritional peak.  It's also an excellent way to reduce your food's carbon footprint.  You can make your diet even more sustainable by doing things like choosing sustainable seafood options and wasting as little food as possible.  Yes, you can (and should!) of course compost any food scraps you can't make use of in other ways, but even better is to produce as few food scraps as possible.  Sustainable cooking, no waste cooking, zero waste cooking, closed loop cooking – the idea behind all of these is that you produce as little waste as possible, both in packaging and also in wasted food scraps.
That's why I get a little thrill every time we get turnips and radishes in our CSA box  – it means I get a chance to use every part of the plant in one dish (I totally pretend I'm in a Master Chef challenge from time-to-time…try it!)!  Contributing to the game show nature of this dish is the fact that improvisation is encouraged; while I've chosen walnuts (healthy and frugal!) you can make the pesto with pretty much any nut or seed (pine nuts are traditional, if expensive, but I've also had luck with sunflower seeds and almonds), and the parmesan is a yummy but unnecessary addition, whether you're vegan or just don't have any.  I rarely measure the ingredients for the pesto anymore; even if you're fastidious about the recipe, you'll want to taste and tweak as you process it.  I'm always surprised how sweet, vibrant, and peppery the turnip and radish greens taste.  If you don't have enough (or any!) tops from the radishes and turnips, you can supplement with (or use exclusively) any other green – basil is deliciously sweet, cilantro is nice and fresh, and pea shoots are surprisingly yummy.  (See the chart below for various adaptations!) And though I've featured this as a radish and turnip recipe, the truth is you can make it with a variety of root vegetables.  I know it's good with carrots and potatoes mixed in, and I bet beetroot, parsnips, or butternut squash (as well as other squashes) would be delicious, too.  The key is to chop the veggies into similar sizes so they cook evenly.
I like to serve this with a big, hearty salad for a fresh, light meal or alongside some sautéed greens (you can use the tops for this, too!) and a protein like marinated tofu or tempeh for a more traditional "meat" and two veggies kind of meal (did I mention I'm from the South?).
Got leftover pesto?  Lucky you.  Spread it on crusty bread and crackers; slather it on sandwiches, wraps, bagels, pizzas, and baked potatoes; scoop it on salads and veggies; swirl it into pasta and soup.  A dollop of pesto makes everything better. Trust me.
Roasted Radishes & Turnips
Prep Time: 10 minutes active; 30 minutes inactive
Servings: 4-6 side dishes
What You Need:
1 bunch radishes
1 bunch turnips
olive oil
½ teaspoon garlic powder
¼ teaspoon onion powder
1/8 teaspoon cayenne (use smoked paprika for less heat)
salt & pepper
What You Do:
Preheat the oven to 400°F.  Scrub the radishes and turnips and trim off the tops.  Set the tops aside for the pesto.  Chop the radishes and turnips into 1-inch pieces.
Toss the radishes and turnips with enough olive oil to coat them.  Add the garlic powder, onion powder, cayenne (or smoked paprika).  Mix well, and add salt and pepper to taste.  Spread evenly over a baking sheet.
Roast at 400°F for about 30 minutes, or until fork tender.  Serve with pesto (recipe below).
Radish & Turnip Greens Pesto
Prep Time: 5 minutes
What You Need:
1 bunch of turnip tops
1 bunch of radish tops
2/3 cup olive oil
½ lemon, juiced and zested
1-2 cloves garlic
½ cup walnuts
1/8 cup parmesan cheese (optional; omit or replace with nutritional yeast to make vegan)
salt & pepper
What You Do:
While the radishes and turnips are roasting in the above recipe, roast the walnuts by spreading them in a thin layer on a baking sheet and roasting at 400°F for 5-7 minutes.  Keep a close eye on them; they'll burn quickly! (If I don't have the oven on anyway, I skip this step – it's not absolutely necessary, although it does add a nice complexity.)
Put the garlic clove(s), lemon juice and zest, walnuts, parmesan cheese, salt, and pepper into a food processor or high-speed blender and process until finely chopped. 
Add a third of the cleaned tops and process 20-30 seconds, scraping the sides as needed. Add another third of the tops and process 20-30 seconds, scraping as needed.  Add the remaining tops and process until finely chopped, scraping the sides as needed.
Add oil slowly, pulsing while adding, until desired consistency is reached.  (You may not need a full 2/3 cup of oil.)  Serve with turnips and radishes (recipe above).
Store leftovers tightly covered in the fridge for 3-4 days.
Because sustainable cooking is about using what you have, I put together this Pesto Cheat Chart so that you can mix and match and make pesto no matter what ingredients you've got on hand.
Pesto Cheat Chart