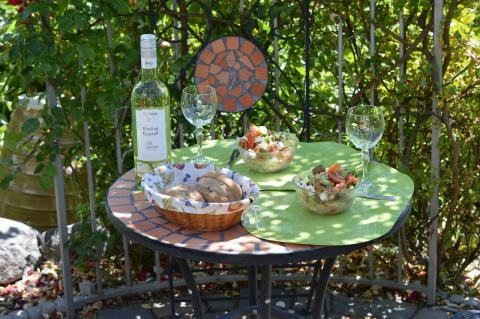 Summer is my favorite season, hands down. That's why I'm always so excited when June 21st rolls around (it means summer is officially here!). It reminds me of days spent with my friends, good laughs, and pool parties. Throughout my childhood, I would be in the pool practically every day in the summer. I lived in an apartment complex (and still do) that had a community pool for residents only. All my friends would always be there and we'd spend hours upon hours swimming, playing pool games, and just goofing off. I would get so tan and my hair would get practically blonde. But enough about me: What great memories of summer do you have? If you don't have any, no worries: I have a few tips and tricks that will start your summer off with a bang. Following these five tips will help make this the healthiest summer ever.  I talk about everything from seasonal eating, to skincare, to going outdoors. And stay tuned towards the end (I share a yummy summer recipe you won't want to miss!).  
Eat cooling, water-rich foods 
During intense heat, it's easy for your body to dehydrate. Making sure to drink lots of water will certainly help this, but eating water-rich foods will help you out even more! Water-rich beauty foods like watermelon, cantaloupe, cucumber, celery, watercress, lemons, and coconut water keep your body cool when it's sweltering outdoors. They're also natural diuretics, so you won't get bloated. Also, one of my favorite ways to stay hydrated is to make water infusions. Try making watermelon mint water by adding it to a pitcher of water. This goes over great at parties too! Some other great water-infusions are lemon and cilantro, blackberry and thyme, and cucumber and rosemary. Get creative!  
Skip sun damage with food + sunscreen 
Enhance your anti-aging sun defenses from the inside with UV-protective foods like tomatoes, carrots, watermelon, apricots, and greens. These foods contain lycopene and beta-carotene, phytochemicals that help block UV damage in the skin. Don't forget an all-natural mineral-based sunscreen and a great pair of UV-filtering sunglasses. Some sunscreens that I really trust are from brands like Suntegrity, Raw Elements, MyChelle, and Badger (all of which made it onto EWG's Sun Safety Amazon Store). Never skip the sunscreen: While getting sun is good for you, getting too much can lead to nasty sunburns (or worse down the line – skin cancer). That said, it's important to invest in a sunscreen without the use of untrustworthy chemicals, so make sure to do your research before purchase – or make your own!
Get outdoors and have fun 
Enhance your summertime beauty by taking your exercise routine outdoors, where you'll boost self-esteem and lift your spirits. You can rev up your mind and body by heading toward water; the negative ions that concentrate near waterfalls, river rapids, and waves improve your mood and energy. Make contact with the earth by walking barefoot on grass or sand, a 'grounding' technique that actually balances the electrical energy of your body to reduce inflammation and increase calm. Also, take this time to eat outdoors more! I personally love picnics and think they make a fantastic way to enjoy good, healthy foods in great company. Don't be afraid to try new things either: This allows your spirit to expand. Go to a waterpark, go rock climbing, go swim in the sea, go see a concert, go camping. Whatever it is you want to do, do it while the weather allows! My personal goals for this summer are to go berry picking, bird watching, and horseback riding. Let's see which I get to first!  
Lighten up -- your diet that is 
Although summer is the season of abundance, you'll naturally crave lighter dishes. Even if raw food doesn't suit you during other seasons, give it a try during the summer. Incorporate more fresh, raw foods into your day and you'll taste the living beauty nutrition they offer. I personally adore salads way more during the summer season than any other season -- especially fruit salad. I mean, come on, doesn't a fruit salad loaded with in-season fruits taste so much better than in the dead of winter? I highly suggest whipping up a fruit salad of your own. Try cutting up some watermelon, cantaloupe, strawberries, and bananas. Add them to a bunch of blueberries, blackberries, and raspberries. You'll totally thank me later. 
Sweat better (without the toxins) 
Find a natural deodorant that allows your body to perspire (an essential form of beauty detox!), but keeps you feeling fresh. Conventional antiperspirant deodorant formulas block natural detox and usually dose your body with toxic aluminum and paraben preservatives.  I highly recommend Poofy Organic's deodorants (especially in the scent lavender chamomile) and Nourish Organic's Deodorants. I've been using Poofy Organic's deodorant for two years now and literally just ran out. It did a great job of making me smell super floral (and not sweaty), plus it's paraben- and aluminum-free. I just started using Nourish Organic's deodorant cream in geranium and I can also attest to that making me smell like a flower. While you don't have to buy these exact ones, I definitely recommend you do your research and purchase a deodorant without aluminum, parabens, or synthetic chemicals.  Or you could make your own deodorant with just a few basic ingredients!
Bonus: Make a Summer Recipe 
Finally: The moment you've been waiting for! A summer dish to sink your teeth into. To make summer all the more enjoyable, here's a light pasta dish that you can't go wrong with. It utilizes two vegetables that are seasonal to summer: Peas and zucchinis! Trust me when I say combining them is a total hit, and the mint leaves give it that added, unexpected freshness. This recipe serves about 4 and tastes great warm or cold (perfect for summer picnics!). Pair it with cucumber-mint infused water and you've got one heck of a meal.  
Pea Zucchini Mint Pasta 
Ingredients: 
1 large lemon  
250g of spaghetti 
2 tablespoons olive oil 
2 large zucchinis, grated 
2 garlic cloves, crushed
3/4 cup frozen baby peas 
1/4 cup extra virgin olive oil 
1/4 cup fresh mint leaves, chopped  
Directions: 
First, finely grate and juice the lemon. Then, cook the pasta in a large saucepan of boiling salted water, according to the package directions. Cook the pasta until it's tender, then drain.  
Meanwhile, heat olive oil in a large frying pan over medium-high heat. Add zucchini and garlic to the pan and cook them for 3 minutes, or until zucchini starts to soften. Make sure to stir them around in the pan so they cook evenly! Now add the peas. Cook and stir occasionally for 3 to 5 minutes (or until peas are tender).  
Add the pasta, lemon rind, lemon juice, extra-virgin olive oil, and mint to the pan. Cook all of it together for at least 2 minutes, or until combined and heated thoroughly. Season with salt and pepper. Ta-da! You may now enjoy this immediately, or store it in the fridge for later. It tastes great cold or warm (although I recommend eating it warm). Enjoy!