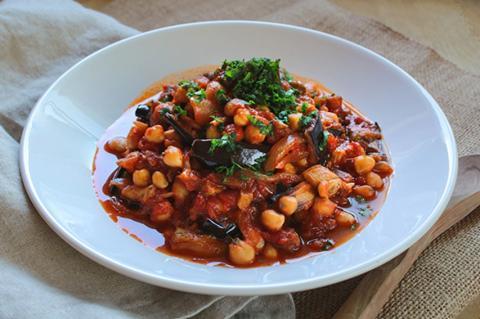 With the fall equinox just around the corner you might be starting to think about parties and pumpkin pie, but instead of jumping into the holiday season, why not ease into it? As we transition into the fall season, today's vegan eggplant and chickpea stew is a nice dish to add to your table. This healthy stew, with its array of spices, is light, and just a little warming.
Intentional Seasonal Eating
When you notice a new crispness in the air, it's a good time to begin the process of shifting your diet from lighter, easy to digest summer foods to more grounding, fortifying fall/winter foods. The idea is to transition from a high-carb, summer diet to a higher-protein, fat-rich, winter diet. As the seasons change around you, similar changes are occurring in your body as well. The intense heat that has accumulated over the summer is dissipating now, and the land, and your body, is cooling and becoming drier.
To support your body in early fall, introduce generous amounts of seasonal fruit like apples, which cleanse the body and break down heat, and progress into winter with hearty soups, nuts, grains, and—if you eat it—meat. As nature shifts from buzzing energy and plants heavy with overripe fruit, to drier, colder, and barren, increased fat and protein will moisturize, insulate, and stabilize your body.
Eggplant & Chickpea Stew: A September Favorite
Your body will love eggplant and chickpea stew during the fall transition because it's a dish with a hand in each season. In September, eggplant is abundant in many gardens in the northern hemisphere. In Ayurveda it's considered a cooling summer food. In this recipe, we're warming it up by adding tomatoes, garlic, onions, and spices like pepper, cinnamon, nutmeg, and cloves.  What you end up with is a delicious, nutrient-rich stew that's still light and easy to digest. If you'd like to make it a more substantial meal, serve it with a hearty salad, bread, or even boiled eggs.
Most of us agree that what we eat greatly influences how we feel. It makes perfect sense; after all, food has chemical properties. Yet, well before humans discovered quantifiable vitamins and minerals in food, many cultures had developed what would become time-tested philosophies about eating through observation. While it can be interesting to learn about a food's nutritional composite, it's unnecessary to health. Instead, take time to notice what's happening in nature and how it's affecting you. And when you eat something, notice how you feel. Until we discover a way of eating that works for everyone, the old system of observation might be the best way to go for each of us. In this world of ever-changing diets, it's comforting to know that some things never change.
Eggplant & Chickpea Stew (Vegan, Gluten-Free)
Serves: 6
Total Time: 40 minutes
Ingredients
2 pounds eggplant (roughly two large eggplants), diced
2 Tablespoons extra virgin olive oil, plus a little extra for roasting the eggplant
1 large onion, peeled and finely sliced
2 garlic gloves, minced
1 Tablespoon sea or pink Himalayan salt
2 Tablespoons tomato paste
1/2 teaspoon ground cumin
1/4 teaspoon ground black pepper
1/4 teaspoon ground coriander
1/8 teaspoon ground cinnamon
1/8 teaspoon ground allspice
1/8 teaspoon ground cloves
1/8 teaspoon ground nutmeg
pinch of ground cardamom
28-ounce can whole peeled tomatoes
4 dried apricots, diced small
1-1/2 cups cooked chickpeas (or 15-ounce can, drained)
chopped flat leaf parsley, to garnish
Directions
Preheat the oven to 450 degrees Fahrenheit.
Brush the eggplant with olive oil and sprinkle with salt.
Line a baking sheet with parchment paper. Place the eggplant slices on the parchment and roast in the oven until lightly browned, around 30 minutes.
While the eggplant is cooking, proceed with the recipe. Heat 2 tablespoons of olive oil in a large, heavy skillet over medium heat. When hot, add the onion and cook, stirring often, for 10-15 minutes, until soft and beginning to caramelize.
Add the garlic, stir, and cook for an additional minute. Salt the onions and garlic generously.
Add the tomato paste and spices, and stir well.
Add the tomatoes, breaking them up with your hands.
Add the apricots and cook for 20 minutes, stirring from time to time.
Remove the eggplant from the oven and add it to the skillet along with the chickpeas. Cook for 5 minutes, until the mixture thickens. Taste, adding more salt if you desire.
Plate, garnishing each portion with chopped parsley, and serve.
Photos by Shiraz Leyva