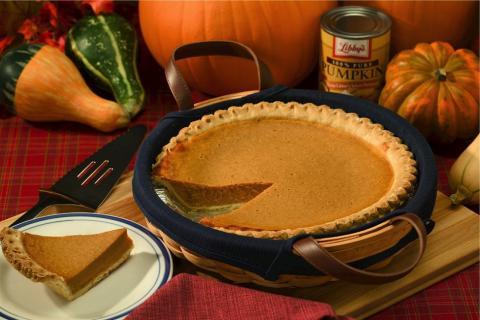 There is nothing quite like Pumpkin Pie; the rich earthiness of the pumpkin, the complex spices and the flaky crust are all classic elements that come together to create this delicious dessert. The almond milk adds some creaminess and the corn starch substitutes for eggs, giving the pie filling a thick consistency. I suggest topping your slice of vegan pumpkin pie with some whipped coconut cream for the full effect!
Vegan Pumpkin Pie
Yields One Pie
Ingredients:
1 can Pumpkin Puree (15 ounces)
1 ¾ cups Almond Milk (or other nondairy milk)
½ cup Brown Sugar
¼ cup Corn Starch
1 teaspoon ground cinnamon
½ teaspoon ground ginger
1 teaspoon Vanilla Extract
½ teaspoon Salt
1 Vegan Pie Crust (get the recipe here)
Directions:
-Prepare the pie crust ahead of time and place in a pie pan.
-Preheat the oven to 350 degrees Fahrenheit.
- Add all ingredients to pumpkin puree. Mix until well blended.
-Pour the pumpkin mixture into the pie crust. Use a spoon or gently tap the pie pan on a flat surface to smooth out the surface of the pie filling.
-Put the pie in the oven and bake for about 1 hour.
-Allow to cool completely before serving.