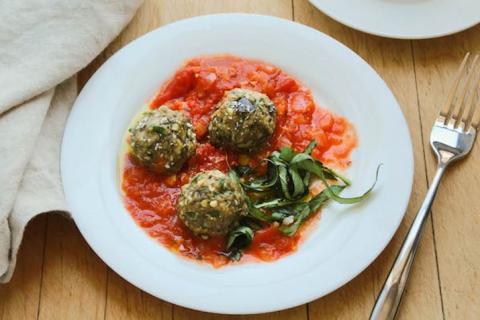 Meatballs and summer aren't normally thought of together, but that's only if you're thinking about meatballs that contain meat. Today's vegetarian meatballs are light enough to enjoy when it's warm outside; plus they make great use of a vegetable that's abundant this time of year: eggplant. There are a couple of different ways to make eggplant meatballs, but they all add up to a meal that's plant-rich and delicious.
Seasonal eating means following nature's energy. Here in California—and many other places in the northern hemisphere—nature is expressing herself in eggplant at the moment (and zucchini and tomatoes, but more on that later). This is a time of year when minding the garden daily is a good idea—vegetables grow to enormous proportions seemingly overnight. Eggplant, like zucchini, is best when young. At the same time, early harvesting extends the growing season. With such an abundance of gorgeous vegetables, it's a particularly wonderful time to cook.
Delicious vegetarian meatballs can be made out of all kinds of plants provided you have a base, dry, texture, and binding ingredient in your recipe. Many recipes for eggplant meatballs call for a base of legumes, but I think you'll appreciate the simplicity of this version, which was inspired by blogger and cookbook author Pamela Salzman. For those of us who favor making our own beans over canned, this recipe spares us some work by omitting the beans altogether and using pine nuts as a base. Pine nuts are particularly rich in magnesium, which so many people are into these days due to its ability to calm and improve sleep.
This recipe is forgiving and adaptable. For example, if the eggplant batter is too dry, add more egg or liquid (red wine is a nice addition); if it's too wet, add more breadcrumbs. If you're in a hurry or can't bear to turn on the stove, try cooking the meatballs directly in the sauce for 15 minutes (turn them from time to time). However if you choose this method, add extra breadcrumbs to the batter and cook the meatballs gently. If not cooked mindfully, they have the propensity to fall apart when cooked in the sauce.  Oh and by all means, scoop up some of those zucchini and tomatoes in your garden and add them to the mix. Garden tomatoes will lend freshness and serving it all atop a bed of zucchini noodles will up the plant-based ante to the sky. Although it's impossible to keep up with nature's extravagant abundance, you can have many delicious meals while trying.
Eggplant Meatballs With Marinara Sauce
(Vegetarian, Gluten-Free Option)
Serves: makes 24 meatballs
Prep Time: 20 minutes
Cook Time: 50 minutes
Total Time: 1 hour, 10 minutes
Ingredients
For the meatballs:
2 Tablespoons extra-virgin olive oil
1 large eggplant (about 1-1/2 pounds), cut into 1" cubes
3 cloves garlic, minced
1/8 cup filtered water
1/2 cup pine nuts
1 cup grated pecorino cheese
1/2 cup fresh Italian parsley leaves, chopped
3/4 cup plain breadcrumbs (or gluten-free)
sea or pink Himalayan salt and freshly ground black pepper, to taste
2 eggs, lightly beaten
For the marinara sauce:
2 Tablespoons extra virgin olive oil
1 small yellow onion, finely chopped
2 cloves garlic, minced
28 ounce can whole peeled tomatoes
1 bay leaf
1-1/2 teaspoons chopped fresh oregano (or 1/2 teaspoon dried)
3/4 teaspoon fresh chopped thyme (or 1/4 teaspoon dried)
1/2 teaspoon dried red pepper flakes
To garnish:
freshly grated Parmesan cheese
1/4 cup fresh basil, minced
Directions
Make the meatballs: warm 2 tablespoons of olive oil in a large skillet over medium high heat. Add the diced eggplant and cook for a few minutes, until soft and golden.
Add garlic and sauté for a minute, until the garlic is fragrant.
Add water, cover, and allow to cook gently for 15 minutes.
Preheat the oven to 350 degrees Fahrenheit. Line a baking sheet with parchment paper.
After the eggplant has cooled, transfer it to a food processor. Add the pine nuts, pecorino, parsley, breadcrumbs, salt, and pepper and pulse until just combined (the mixture should still be chunky). Add the eggs and gently stir to combine.
Lightly coat your clean hands with olive oil to prevent the batter from sticking. Form the meatballs with your hands, transferring each one to the parchment-lined baking sheet as you go.
Bake for 20 minutes.
Meanwhile, make the marinara sauce: warm 1 tablespoon of olive oil over medium high heat in a large skillet.
Add the onion and sauté for about 5 minutes, until soft and translucent.
Add the garlic and cook for another minute. The final sauce should be chunky but liquidy.
Add the tomatoes to the pan, crushing them with a wooden spoon to break them up.
Add the bay leaf, oregano, thyme, and a few grinds of black pepper to the pan. Bring to a gentle simmer and cook for 20 minutes.
Remove the meatballs from the oven. Plate with marinara sauce, topping each portion with basil, Parmesan cheese, and drizzles of olive oil, and serve.
Additional Cooking Notes
If you don't have a food processor, chopping the ingredients by hand will also work.
Eggplant meatballs are delicious as sandwich filling.
Photos by Shiraz Leyva