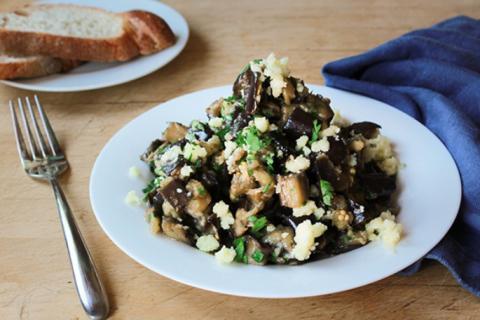 Beyond being delicious, some recipes work better for certain times. While you'll enjoy today's salad anytime it's made with garden-fresh eggplant, it has the potential to become a weeknight hero. When you arrive home after work on a summer evening, garlicky eggplant salad makes a lovely meal; it's uncomplicated, flavorful, and satisfying enough to be a light dinner all on its own. 
Summer is a time of mobility and expansion. During this season we generally crave lighter foods and smaller meals. When temperatures rise, our bodies become preoccupied with keeping cool. This means there's less energy available for digesting. This is not the time of year for a steak, gluten-heavy meals, or eating any food you personally find challenging to digest. That said, the high energy of summer might leave you famished and/or craving food that's a little grounding. If a big, leafy green salad and a blended vegetable soup sound like a typical meal in your summer world, this eggplant salad, with its flavorful, creamy topping, will be a nice stand when you find yourself on the hungrier-than-usual side.
The flavor quotient of today's eggplant salad gets a huge boost from an almodrote topping. Traditional in Sephardic Jewish cuisine, in its most basic form almodrote is a mixture of cheese and garlic pounded into a paste. While recipes from fourteenth and fifteenth century Spain still exist that are similar to the one I'm sharing here, more recent versions of almodrote come in the form of casseroles, similar to lasagna. They're delicious, but probably not the kind of thing you want to make on a hot day. In contrast, this recipe doesn't require an oven. Instead, the eggplant is steamed before being browned on the stovetop. Steaming the eggplant first means it absorbs less oil when fried, and you'll end up with eggplant that's a little crispy on the outside, creamy on the inside, and very delicious.
Light food and small meals are subjective categories, but a flavorful eggplant salad with a few slices of toast on the side can make a perfect summer dinner for many of us. On the other hand, if you make a few batches, pick up some cold, minerally white wine, and invite a few lovely friends, your humble weeknight meal just might transform into a party. Now that's what I call a recipe for summer.
Eggplant Salad With Spicy Cheese (Almodrote)
(Vegetarian, Gluten-Free)
Based on a recipe from The Converso Cookbook
Serves: 4, as a side    
Total Time: 45 minutes
Ingredients
8 cloves of garlic, peeled and coarsely chopped
1 cup grated or chopped aged manchego cheese
2 medium eggplants
1/8 teaspoon sea or pink Himalayan salt
1/8 teaspoon freshly ground black pepper
3 Tablespoons extra-virgin olive oil or ghee
1 pint grape tomatoes, halved (optional)
3 Tablespoons chopped Italian parsley
Directions
In a food processor, pulse garlic and manchego until a paste forms.
Place a steamer basket in a large pot of water (with a lid). Fill the pan with salted water just below the basket and bring to a boil.
While the water is heating, dice the eggplant into bite-sized cubes.
When the water has reached a boil, place the chopped eggplant into the basket and steam until tender, 20-25 minutes. Remove and place the eggplant in a colander to drain.
Heat the olive oil in a large sauté pan over medium high heat. When hot, add the drained eggplant. Working in batches if necessary, brown the eggplant.
Add salt and pepper, stir, cook for a few more minutes, and transfer to a serving plate.
Add the tomatoes (if using), cheese mixture, and parsley to the eggplant, mix gently to combine, and serve.
Additional Cooking Notes
When you fry the eggplant, be careful not to overcrowd the pan. Overcrowding will create steam and prevent the eggplant from browning.  This eggplant salad is very flavorful, but browning adds a not-to-be-missed dimension.
Photos by Shiraz Leyva