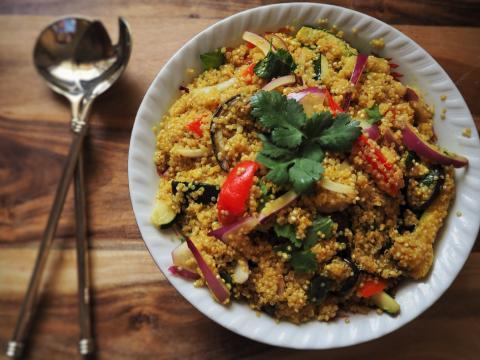 Quinoa (pronounced keen-wah), the magical seed known for its high nutritional content and grain-like texture, is also incredibly versatile. My first introduction to quinoa came as I was working for a natural foods cooperative; I was new(er) to the all-natural, organic food arena and every which way I went someone was talking about quinoa. "It's a great source of protein," some said, "it's filled with vitamins and minerals," said others, "it's gluten free and easy to digest," said more people still. So, I did what any skeptical food-eater would do: I purchased a small bag from the bulk section and brought it home. Once I got home I suddenly realized that I had no idea what to do with my new found grain-like seed. If you, too, are unsure about how to squeeze in this nutrient-dense, powerhouse food, you're in the right place.
What is quinoa?
Quinoa is an edible seed from the Andean regions of South America. It is known for its high nutritional content including a rich source of protein, fiber, and many vitamins and minerals. Additionally, because quinoa is a seed, it is gluten free and easily digestible for people of all diets. In recent years, quinoa has become very popular and can be found in natural food markets and big-box grocers alike.
How to cook quinoa?
Like rice, quinoa cooks by absorbing water. In general, one cup of quinoa will use 1 ½ cups of water. To cook, bring water and quinoa to a boil on the stove top, then lower the heat, cover, and simmer until all of the water has been absorbed and the quinoa is soft and fluffy. The easiest way to cook quinoa? In a rice cooker!
But how do you cook with an edible seed? Luckily for all of us, quinoa is incredibly versatile and can be used in a wide variety of recipes. Here are just a few ways that I love to use quinoa in my own cooking:
1.Salads - As a grain-like seed, quinoa can be used in almost any type of salad in place of other grains. My favorite quinoa salad is in the form of tabbouleh, but virtually any type of barley, farro, rice, or pasta salad would be delicious with quinoa instead. Another salad that is equally as delicious with the addition of quinoa? Potato salad, yes, really!
2.Soups - I love a hearty soup in winter and a light soup in the spring; quinoa is versatile enough to be delicious in both types of soup regardless of weather. Try adding quinoa into chili, vegetable soup, chicken soup, or even a simple broth-based soup. The quinoa fluffs up nicely in the stock, and will add a wonderful texture.
3.Grain replacement - Quinoa can be used as a substitute for nearly any grain in any recipe. I love making quinoa with lentils, salmon, beans, or any source of protein where I would usually have a grain on the side.
4.Wraps - Looking for a new filling for burritos or wraps? Quinoa fits the bill! My favorite quinoa wrap includes marinated tempeh, kale, and avocado.
5.Stuffings & Fillings - Quinoa makes an excellent stuffing component for things like loaded sweet potatoes, stuffed peppers, and baked squash. You can even sneak it into homemade burgers or sloppy joes!
The list doesn't stop there! There are hundreds of ways to use quinoa, but the most important rule for cooking quinoa is that there are no rules! Try quinoa in place of rice or other grains in your next dish -- I promise you won't be disappointed!