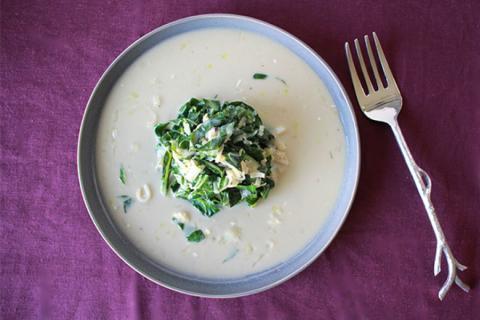 If I asked you how you like to eat collard greens you might say that you fill them with hummus and vegetables and use them as wraps, or sauté them with garlic and add a splash of apple cider vinegar; but you probably wouldn't say you pair them with coconut milk. However that's exactly what I'm going to suggest you do. Whenever someone asks, "What's the best way to cook collard greens?' I refer them to the recipe I'm sharing with you today.
My coconut collard greens are based on a recipe by Von Diaz. Diaz, who is of Puerto Rican ancestry by way of the American south, has the unique perspective that resulted in this delicious recipe. The characteristic bitterness of collards is countered by the natural, rich sweetness of coconut milk, and it's a great match. Whether they're served with quinoa, meat, or eaten all on their own as a quick bite, these collard greens are so good you might find yourself craving them on a regular basis. This dish is not only satisfying, it's also packed full of nutritious goodness, and it's easy to make. Just how nutritious? Just how easy? Let me tell you.
COLLARD GREENS: ALL ABOUT NUTRITION 
Collard leaves, large and fanlike, are nutritionally extravagant. Rich in micronutrients, just one cup contains around 1045% of the US daily value (DV) of vitamin K, 308% of vitamin A, 58% of vitamin C, and 44% of folate. They're also rich in glutathione, a peptide consisting of three amino acids, which researchers are finding key to longevity. Glutathione supports detoxification in the body, cleanses the liver, and protects the body against environmental factors. 
HOW TO MAKE COCONUT COLLARD GREENS
While there are foods that remain stubbornly resistant to short cuts, like wine and sourdough bread, these delicious greens aren't one of them. Making this recipe will only take about thirty minutes. Collard greens are easy to clean and cut. I recommend removing the ribs, then rolling the leaves up like cigars and slicing through the short ends, so you end up with rolled ribbons (like in the picture below). I'm all for using the whole vegetable, but I usually discard the fibrous collard ribs. This is a personal thing. If you use the ribs, just remember to add them to the pan before the leaves, giving them ample time to cook. Also, if you have the patience to make your own coconut milk, by all means, use it here. If you opt for the canned variety—I won't tell—choose one that's free of additives. The amount I suggest using is meant as a guideline. If you add more you'll end up with a kind of soup, but on a cold, busy day, that might be just the thing you need. Regardless, you'll be delighted by what you've done with thirty minutes, a few ingredients, and one pan.
It's been said that time is the invisible ingredient in food.  Historically, across many cultures, time put into food had value. Feasts, whether for dignitaries or loved ones, required careful, time-consuming preparation. Today, for most people, time is an ingredient in scarce supply, but the need to eat well and our love of sharing food remains constant. That's part of the beauty of easy, quick recipes like these coconut collard greens. In a short time you can have a nutritious, delicious side dish. Developing a repertoire of easy, nutrient dense recipes that you enjoy eating will preserve your health and your sanity. You'll go to sleep knowing that you did something good for your body, and lay the foundation for a happy tomorrow.
COCONUT COLLARD GREENS
(GLUTEN-FREE, VEGAN ADAPTABLE, WHOLE 30 FRIENDLY)
Note: Many people ask about substituting onions for leeks in this recipe. I find that onions overpower the balance between the sour of the collard greens and the sweetness of the coconut milk. If leeks aren't available, use scallions.
Serves: 4, as a side dish
Prep Time: 10 minutes
Cook Time: 20 minutes
Total Time: 30 minutes
Ingredients
1 Tablespoon ghee or coconut oil
1 large leek
1 clove garlic, finely chopped
1 large bunch of collard greens, rinsed, stems removed and discarded, leaves coarsely chopped
1 cup unsweetened coconut milk (fresh or canned)
1 Tablespoon coconut aminos (or soy sauce)
1/8 teaspoon nutmeg
freshly ground black pepper and Himalayan or sea salt, to taste
Directions
Heat ghee or coconut oil in a large skillet over medium heat. When hot, add the chopped leek and cook, stirring occasionally, until soft and translucent.
Add garlic and stir constantly until it releases fragrance, but before browning.
Stir in the collard greens and cook, turning them frequently, for about 2 minutes, until almost wilted.
Add coconut milk, stir, and bring to a gentle boil, then lower the heat to maintain a simmer.
Stir in coconut aminos and nutmeg. Partially cover the pan and cook until the collard greens are tender but still have texture, about 10 minutes.
Season to taste with salt, pepper, and extra ghee, if desired, and serve.
Photos by Shiraz Leyva