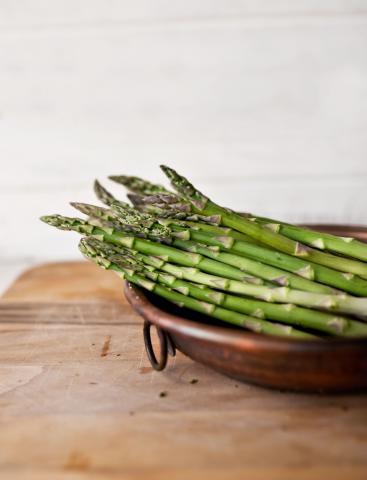 Many a night I've been elbow deep in dinner prep or in line at the grocery store when I realize I've forgotten to plan for a side dish.  Sure, homemade veggie burgers are great—but they're not very substantial on their own.  Maybe it's because I'm from the Southern U.S., but I feel much more satisfied when I have a filling side dish (or two!) along with my entrée.  The problem is that I'm usually much more focused on the main attraction, and it's not unusual for the side dish to be relegated to the back burner (literally and figuratively).
To come to the rescue in those moments, I keep a running mental list of easy, healthy side dishes that only require five (maaaaaaybe ten) minutes of prep time (not counting hands-off cooking time).  I can quickly grab the ingredients for these (off my pantry if it's well-stocked, or at the grocery store if I remember when I'm there) and throw them together with minimal thought and effort.  That's crucial to helping me keep my calm when I realize I've forgotten something.
So next time you're looking for an easy, healthy side dish that won't require lots of hands-on prep, try one (or more) of these recipes.
Quinoa
This dish is an excellent side dish because it's a complete plant-based protein.  Quinoa is a healthy grain  that can be used as a replacement for rice, couscous, or other grains.  It's one of those ingredients that is basically a blank slate—it becomes what you add to it, so let your imagination run wild!
Throw a cup of rinsed quinoa into a medium-sized pot over medium-high.  Add a cup and a half of water (or vegetable broth).  Bring it to a boil, then reduce the heat to low and cover the pot with a lid. Let simmer for about 13-16 minutes, or until the water has mostly cooked out and the quinoa have tails.  Remove from heat, but leave the lid on for another 5 minutes for steaming.  Then, fluff with a fork before adding your choice of seasonings, toppings, or vegetables.  I like to add some liquid aminos, ginger, and lime for a quick bolt of flavor.  You can also do a Mediterranean profile with herbs like oregano and basil and sundried tomatoes, or a Mexican profile with corn, cherry tomatoes, avocado, and taco seasoning.  (Serve it with black beans for an extra boost of nutrition.)  Makes about 4 servings.
Sweet Potatoes
This is a dish I started making because I always had partial sweet potatoes left after various recipes called for a certain amount.  What's a person to do with a third of a sweet potato?  Slice it and bake it!  You can do this with regular potatoes, too, of course.  It's a healthier alternative to fries, and you can go crazy and get fancy with seasonings and condiments, if you'd like.  Omit the seasonings on a few slices so you'll have some extra to share with your canine companion.  These make a great, healthy dog snack if made with just some olive oil.
Preheat the oven to 425 F.  Peel a sweet potato and then thinly slice it into medallions.  Toss them in a bowl with a drizzle of olive oil, pink Himalayan salt, pepper, and whatever other seasonings you want.  I like to add a dash of Cajun spices, but sometimes I keep it simple with just salt and pepper.  Bake on a cookie sheet or glass dish for 15-30 minutes (depending on how thick your slices are). Bake them until they're crispy and brown.  Serve with a balsamic ketchup, just ketchup, greek yogurt, or as is!  Bonus: make some with just olive oil on them, and serve them to your dog.  She'll love you!  Makes about 2-3 servings, depending on size of sweet potato.
Asparagus
Basic, but healthy and delicious.  For me, the key is all in the garlic and lemon juice.  I pretty much won't eat asparagus unless I have a heaping helping of both.
Break the woody ends off a pound of asparagus spears.  Heat a skillet with some olive oil over medium heat.  Once hot, add the asparagus spears.  After a couple minutes, add some chopped garlic.  Cook a few more minutes, or until tender enough for your liking.  Flavor with salt and pepper to taste, and serve with a squirt of lemon juice.  Makes 2-3 servings.
Wheatberry Salad
I often make this on Sundays to eat for lunch during the work week, but it's also been a go-to option for me for dinner when I need a fast side dish.  If you don't have wheatberries, you can use farro, millet, quinoa, or other grains.
Heat a cup of rinsed wheatberries with a cup and a half of water (or broth) over medium high heat until simmering.  Reduce heat to medium-low, cover with a lid, and let simmer for at least 35 minutes, or until wheatberries are tender.  (Often, it's more like 45-50 minutes for me, but it depends on the freshness of the wheatberries, among other things.)  Add a little more water if needed.  Once they're tender enough, strain off any remaining water and combine with whatever chopped vegetables you like.  My favorite combination is adding halved cherry tomatoes, chopped red bell pepper, chopped red onion, and chopped broccoli.  You can also add zucchini or edamame or top with feta or goat cheese.  Then add a dressing of your choice.  Try mixing olive oil, balsamic or red wine vinegar, oregano, basil, salt, and pepper for an easy, healthy option.  Makes 6-8 servings.
Brussels Sprouts
I never thought I liked Brussels sprouts, and then I had them charred.  When they're deeply roasted, they get this wonderful, delicious caramelization on them…they almost melt in your mouth.  Promise.  You'll be delightfully surprised by the flavor that develops.  Just don't be afraid of overcooking them.  When you think they're done, let them go a little longer.  Trust me.
Preheat the oven to 425 F.  Pour enough olive oil into a Dutch oven (or other oven-safe skillet) to create a thin layer.  Heat the oil over medium-high heat, and once it's shimmering, add the Brussels sprouts, cut in half with the cut side facing down in the hot oil.  Don't touch them!  Let them get brown for about 5 minutes, and then add 5-10 peeled cloves of garlic to the pot, along with some pink Himalayan salt and black pepper.  (Include a dash of cayenne if you like some heat.)  Put the Dutch oven into the oven and bake for about 15-30 minutes, or until they're a deep, dark brown color.  Shake them a few times while they're baking to ensure even baking.  Add more salt and pepper if needed, and drizzle one or two tablespoons of balsamic vinegar over them while they're hot.  (Alternatively, hit them with a squirt of lemon juice for some acidity.)
Walnut "Meat" Crumbles
OK, this one is a bonus recipe.  It's not much of a side dish on its own, but it's great if you need to add a little something extra to your vegan tacos or nachos.  You can change up the spices you use to achieve any flavor combo you like.  Toast the walnuts first for more complexity.
In a food processor, combine about a cup of walnuts, a tablespoon and a half of olive oil, and whatever seasonings you prefer: try a couple teaspoons of chili powder, or some taco seasoning, or some cayenne and salt and pepper.  My personal favorite is about a teaspoon or so of chili powder, 1/4-1/2 teaspoon of garlic powder, a dash of cayenne, and salt and pepper to taste.  Process the walnuts until they are "crumble" size pieces.  Voila!  Five-minute vegan taco meat made from pantry ingredients.  Serve on tacos, on nachos, in burritos, and more.