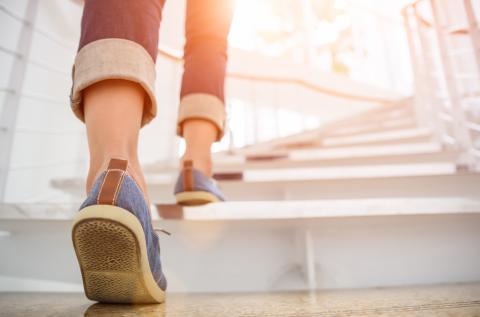 Who isn't busy these days?  Between working, making healthy meals, spending quality time with loved ones, keeping the house clean, and squeezing in a little self-care, who has time for two hours at the gym?  Luckily, research is starting to show that we don't need a solid chunk of time committed to cardio in order to reap some of the benefits of exercise.  In fact, working movement into your day in as many ways as possible might be a better—and more sustainable—long-term exercise goal.  When we move all day long, it keeps our metabolisms working more effectively.  We weren't designed to sit all day and then hit the gym for a power hour—we were designed to move off and on throughout the day, and doing so might just be the jumpstart your metabolism needs.
That doesn't mean you need to be sweating from dusk till dawn!  Instead, take advantage of little moments in your day to elevate your heart rate and/or rev up your muscles.  Here are a few ways to get started.
1. Take The Stairs
OK, so this isn't groundbreaking advice, but it's good nonetheless.  Ditch the elevator and take the stairs.  You can even seek out stairs at work to do a quick round on when you need a break from your desk.  Going up stairs quickly burns about 10 calories per minute, so they'll add up.
2. Clean The House
Next time you're doing chores, give yourself a pat on the back for multitasking: cleaning with moderate effort for an hour will burn about 240 calories.  You might not typically clean for a whole hour, but even a 15-minute power cleaning sesh will net you about 60 calories burned. 
3. Walk To The Coffee Shop
Do you have a regular coffee habit?  If your favorite shop is within walking, running, or biking distance, challenge yourself to get there without a car twice a week.  A 30-minute walk (so 15 minutes each way) will burn about 150 calories, so if you keep your tea or coffee free of add-ins, you'll start the day out right!
4. Turn Waiting Into Working
The next time you're waiting for the microwave, coffeemaker, tea kettle, etc., turn it into a challenge.  See how many sit-ups or push-ups you can do before time's up, or challenge yourself to hold a plank till the timer dings.
5. Make Commercials Cardio Time
Catching up on your favorite TV show? Rather than fast forward through those commercials, use them as a break to get up off the couch and get active.  Do jumping jacks or move through a few asanas before time to cuddle back up on the couch.  You might even find you can hold Warrior pose while watching…
6. Try Moving To Social Media
This is especially helpful if you're a social media addict.  For every minute you spend mindlessly scrolling social media feeds, do a minute of exercise (sit ups, plank, cardio, asanas, whatever).  If you tune into someone's live, prop your phone up and get busy while you watch!
7. Squeeze In 5 More Minutes
When you do hit the gym (or your mat for a yoga session), promise yourself you'll do just 5 extra minutes.  Even if you're tired.  Even if you're not feeling it.  When your normal time is up, give it just 5 more minutes.  Depending on your activity, this could get you another 50 calories.  Even better—over time, it'll increase your endurance.
8. Swap A Lunch Date For Lunges
Don't bail on your friend—but suggest doing an activity together instead of sitting and drinking or eating.  With two people, you can hit a tennis ball or shoot hoops, but even just walking while you talk will burn more calories than sitting.