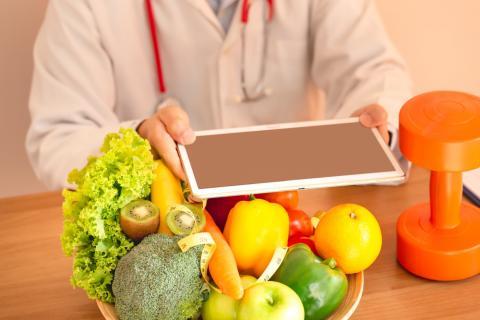 It is widely accepted that diet greatly influences one's overall health and well-being. While the specifics of which diet is best for which population is constantly studied and debated, fresh vegetables and fruits as well as other unprocessed foods are generally seen as being on the healthier side of the spectrum.
Doctors have been increasingly prescribing these types of food choices to their patients. Some doctors are going so far as to collaborate with community nonprofits, or even start their own, in order to improve their patients' ability to afford, access, and cook nutritious foods.
One nonprofit called Wholesome Wave runs a Fruit and Vegetable Prescription program (FVRx). Through this initiative, it has teamed up with doctors, hospitals, and health centers to help lower-income families get their healthy food prescriptions filled at local farmers' markets. FVRx currently has programs in 10 states and Rural Health Info reports that 91 percent of participants reported "they were happier with their healthy weight or diabetes care because of FVRx." Wholesome Wave recently expanded to Los Angeles, Miami, and Houston.
Wholesome Wave also has a program in place to double the value of SNAP (Food Stamps) when they are used to purchase fruits and vegetables. In 2016, it reports serving over 500,000 consumers with a low-income status, unlocking access to $10.6 million in fruit and vegetable sales. Michel Nischan, Founder of Wholesome Wave and the father of two diabetic children, says, "No child should ever say 'I don't eat fruits and vegetables—because my parents can't afford them.'"
Similarly, the Culinary Health Education for Families (CHEF) program at the Children's Hospital of San Antonio teaches families how to shop for, prepare, and cook more nutritious meals. Parents and children are referred by their doctors to CHEF. Donna De la Cruz of The New York Times explains that the program is also branching out into local community centers such as the YMCA in order to serve more people. The program was based on the philosophy that food can be understood and used as medicine. One participant, 10-year-old Rishi, has learned to prepare fresh produce, chicken, fish, salad dressing, yogurt desserts, and tostadas. He is now known to read nutrition labels and plan for more colorful meals at the supermarket, his mom conveys to the The Times.
Dr. Fernando is a Virginia pediatrician who has taken the matter of her patients' diets into her own hands. She runs Yum Pediatrics, a medical practice that includes a teaching kitchen and a heavy emphasis on nutrition. She also founded the Dr. Yum Project—a nonprofit that offers a preschool nutritional education program that has already been implemented throughout the state. She sees healthy food choices as a treatment option for a wide range of her patients' maladies.
"Sometimes parents say their kids have symptoms of anxiety and are wetting the bed and they feel their child needs to see a counselor or needs medication," Dr. Fernando states. But, she explains, a low-fiber diet can cause constipation, which can then cause bladder aggravation and bed-wetting. "That's when you can connect the dots and see how food is often intertwined in their symptoms," she concludes.
While food demonstrations during appointments are complimentary, patients pay out-of-pocket for additional classes. A 14-year-old patient of Dr. Fernando's took healthy cooking lessons at Yum Pediatrics and then adjusted her diet accordingly both when eating at home and when she was out at restaurants. This pre-diabetic youth was able to lose weight within one month.
In Maryland, the Crossroads Apothecary Teaching Kitchen also aims to make smart eating habits an accessible reality for the local community. It was formed "to provide a place where people saw healthy food, learned how to procure it, watched its preparation, and ate it in the company of others with laughter and light-heartedness." Dr. Warren Ross is a teacher at the kitchen and also created the interconnected Integrative Medicine group at Crossroads Medical Associates.
"One would hope that on any medical visit, a doctor would look for an opportunity to see what people are doing around their diet and whether they want additional support in making dietary changes," says Ross. At the teaching kitchen, a class costs $60, which includes multicourse tastings, a drink, a packet of recipes and other pertinent information, cooking demos, and a question and answer period. Crossroads Apothecary Teaching Kitchen offers a "Frequent Diners Club" with discounts. Individuals who are patients of participating doctors at Crossroads Medicine may also be able to get a portion of the class fee covered, but would still need to pay a regular copay.
Through these innovative and collaborative efforts, medical professionals and social wellness organizations hope and strive to empower the people in their care to become actively engaged in their own nutrition and health. Take it from Wholesome Wave participating pediatrician, Dr. Yolanda Rebollo: "When I can offer a family a script for produce, it makes such a difference. The response that we had was phenomenal. It's something that people really love."