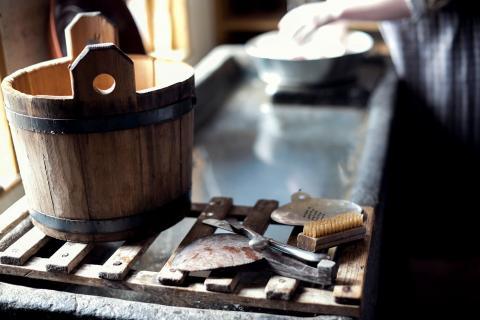 Once crocuses and hyacinths begin to bloom, I'm itching to scrub my floors, vacuum my carpets, and otherwise shed the layer of dust that winter has brought. It's spring cleaning time! That said, I'm picky about the products I put on my body, the beauty products absorbed into my body, and the food I consume; it only makes sense that the area I spend the most time—my house—is as natural as can be in order to reduce my cancer risk, reduce the potential for allergies, and keep my hormones functioning as they should be.
Natural cleaning products are often pricier than their chemical counterparts, but if you're not too short on time, you can make them yourself with ingredients that you likely already have on hand. In fact, trading in your conventional detergent or (toxic) fabric softeners for soap nuts and Castile soaps can actually be economically smarter, too. For everything from glass cleaners to toilet bowl scrub, take a look at how to make your own healthy, toxic-free cleaners at home.
The following is a list of ingredients that can be used to make cleaning products, including several recipes below. If you're just starting out, I recommend that you head to a store, or order online, and stock up. No matter what you need to clean, you'll be able to take care of it.
Ingredients for DIY Natural Cleaning Products
Apple cider vinegar
White vinegar
Baking soda
Sea salt
Borax
Lemon juice
Olive oil
Castile soap
Rubbing alcohol or vodka
Hydrogen peroxide
Witch hazel
Essential oils (lavender and thieves are common for cleaning, but make sure that they're pure)
All-Purpose Cleaner Recipe
Cleaners like this one are probably the handiest item to have around the house. Sticky counters? Dirty fridge? Microwave explosion? All-purpose cleaners do the trick, and, luckily, making them yourself is a cinch. Vinegar is especially great at preventing mold, thanks to its acetic acid content, and adding essential oils can boost cleansing properties. Here's my tried-and-true recipe:
Ingredients
To Use:
Simply measure all ingredients into a spray bottle, gently mix, and you're good to go. For different scents, play around by swapping lavender for tea tree, or peppermint, or even thieves.
Bathroom Cleaner Recipe
Your all-purpose cleaner will work for your bathrooms, too, but I prefer including baking soda in this recipe to take care of some of the grime and splatter that bathroom counters tend to collect. I've adapted my recipe from this one, but feel free to adjust the soap as preferred. I tend to find that too much soap can leave your counters sticky.
Ingredients
2 cups water
1 tablespoon Castile soap
1 tablespoon baking soda
15 drops essential oil of choice (again, I like lavender as it smells fresh)
Glass Cleaner Recipe
I've tried several recipes before stumbling upon this one. Straight vinegar often leaves harsh streaks on mirrors and glass, but this recipe works without fail. I tend to use a 1:1 ratio of rubbing alcohol to vinegar. Note that you may substitute vodka for the alcohol if desired. Since the vinegar tends to have a strong smell, you may want to include a few drops of an essential oil of choice to mask it.
Ingredients
1/2 cup rubbing alcohol
1/2 cup white vinegar
water to fill
10 drops essential oil of choice
Laundry Detergent Recipe
This recipe really isn't a recipe at all. If you're looking for a more traditional kind of laundry detergent, I recommend this recipe, which uses bar soap, washing soda, and borax to create a detergent very similar to commercial products (but without the harsh chemicals.) I've switched to a product called soap nuts. These berries, grown in the Himalayas, are dried when ripe, then sold in bulk at co-ops and online. When used with water, their saponin, a natural compound found within the berries, acts similar to soap—hence the name soap nuts. To use, simply place 4 or 5 soap nuts in a small cloth bag and toss into the laundry machine with clothes. Soap nuts are good for half a dozen washes, or until they become brittle and break apart.
Toilet Bowl Cleaner Recipe
Scrubbing toilets is one of the least fun jobs of bathroom cleaning, but creating a science experiment in the form of toilet bowl cleaner makes it that much better. For this recipe, you'll combine white vinegar and baking soda (with fizz as a byproduct), then scent with your essential oil of choice as you scrub away.
Ingredients
1/2 cup vinegar
1/4 cup baking soda
10 drops essential oil of choice
What natural cleaning product recipes do you use?