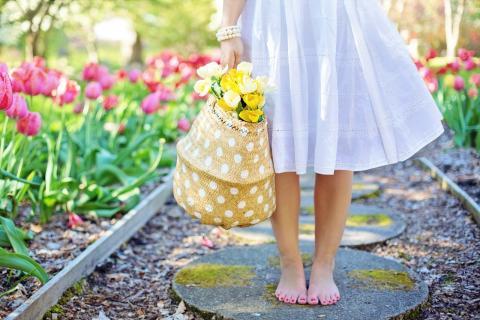 After a long and cold winter, springtime is certainly a blessing. It brings warmer air, beautiful flowers, and baby animals into our lives. Unfortunately, spring flies away much too quickly, so it's important to really savor the season and utilize it as much as possible. It's easy to miss the bounty of spring when you have all the luxuries of the modern world at your fingertips. Living in tune with the seasons isn't exactly what most are accustomed to with our year-round produce section and temperature-controlled homes. That said, it's not impossible to connect with nature even while living a modern life (plus it's good for your health and the environment). Here are 15 ways to savor spring, in all its glory.
15 Ways to Celebrate Spring
Eat seasonally—This time of year provides delicious produce like asparagus, artichokes, lettuce and strawberries. After a long and cold winter, it's definitely refreshing to eat all the green of spring's bounty. Check and see what produce is seasonal to your area. 
Visit the farmers market—This is the best place to find out what food is seasonal to your area. Everything that's available at the farmers market is currently in season, so you know you're getting fresh spring produce automatically. Plus, it's all grown locally (not overseas or miles upon miles away).
Visit a farm—Better yet, go and visit a local farm to see how everything is grown. You can make a day out of it and take your family. Depending on how early or late in the spring you go, you may even be able to go strawberry picking.  
Join a CSA—Community Supported Agriculture (CSA) allows city residents to have direct access to high quality, fresh produce grown locally by regional farmers. Having a CSA box enables you to get fresh produce delivered or available for pickup weekly. Your share will typically include 7-10 types of vegetables, enough for 2–3 people. Most CSAs also offer half shares for smaller households or for those on a budget. 
Go on a hike—With the air still a mix of warm and cold, it's a great time to go hiking. You won't be as prone to sweat or freeze in the spring, and you can notice all the new plant life. Maybe you'll even encounter some wildlife, like a bird's nest or deer!
Take a walk—Not into hiking? Just going on a simple walk outside is good enough, too: You get some fresh air and much needed sunlight that way. Take a deep breath in and enjoy the spring breeze as it plays with your hair.
Identify spring flowers—Come spring, flowers are bound to appear. Take some time to notice which you see blooming first: Are they pansies? Daffodils? Forsythia? What colors are they and how do they smell? Take a moment to literally stop and smell the flowers.
Enjoy a hobby outdoors—Whatever it is you like to do (e.g., drawing, painting, reading, sewing), take it outdoors. This will not only give you a different atmosphere to do your hobby in, but also let you enjoy the spring air. Set up a blanket or hammock if you have to.
Cultivate a garden—Whether you have a lot of space or just one windowsill, growing a garden is a great way to welcome spring. Try growing some native plants if you have an outdoor garden (this helps the local ecosystem), or planting a small herb garden if you only have indoor space. You can also try growing food from scraps to help save money or if you're short on space.
Read a book about nature—Spring is the perfect time for delving into the beauty of the natural world. Hopefully, you appreciate the beauty of every season, but spring is by far the showiest. Take advantage of that and read up on different trees, flowers, leaves, bugs, and birds that are in your vicinity. You're bound to learn a lot and appreciate them all the more when taking that spring walk!
Do some spring cleaning—What could be a more cliché spring tradition than spring cleaning? Here's a twist for you: Do it using all-natural cleaning products. You can DIY your own cleaning products, or find less toxic ones in the store.
Go minimalist—On the note of spring cleaning, use this time to learn more about minimalism. Find a way to declutter all the stuff, both physical and mental, in your life. Is there something you're holding onto that you have never used? What about something that's just taking up space? Now is a good time to donate, recycle, or sell it. De-cluttering your life will help you experience what spring is all about: renewal.
Sketch some wildflowers, trees and animals—Even if you're not an artist, going out and sketching the springtime flora and fauna is always fun. Not to mention you could surprise yourself and wind up capturing a moment in time you won't want to forget (without your phone's camera). Try heading to your local park and finding a nice quiet place to sit where you can sketch in peace. Don't worry about being professional—just capture the feeling of spring in your work. Better yet, do it with some friends and/or family!
DIY some spring crafts—Do you love making things? Why not try incorporating spring's bounty into your DIY sessions? Try making some seed bombs or seed paper with local native seeds, try flower pressing, or find other ways to bring nature indoors.
Build (or buy) a bird feeder, bird house, or bird bath—Depending on the sort of space you have and what you can afford, consider making (or buying) something your local birds will love. It doesn't have to cost an arm and a leg either—try making a simple bird feeder out of toilet paper rolls by coating them in peanut butter and seeds. You can also make a birdhouse without any super fancy designs: Get resourceful and do the research first. As far as a bird bath goes, get crafty and DIY your bird bath out of terra cotta pots and saucers or anything else you have lying around. Birds will absolutely love you!