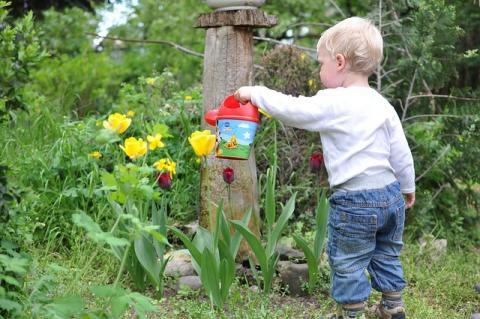 Tired of your kid's TV habit or your little one's penchant for playing games and apps on your phone? Try sneaking a bit of nature into your kid's daily routine – to make them love the world around them…
Keeping little ones constructively occupied is like a full-time job in itself and if you're a work-at-home parent like me, it's even more difficult. There's only so much indoor-time you can use to keep them busy – be it toys, games, arts or even writing practice. I have been blessed to live in a home with a front yard and a backyard where the kids manage to ride their scooters and swing cars to and fro for hours on end. But even so, they are often their happiest when outside doing messy things like gardening and weeding.  To stave off children being glued to the TV, here are 5 ways to keep kids busy with nature.
Have a morning walkabout​
Get your kids up and early as you head towards your morning walk or run. This is an excellent time to spot birds and other early morning critters and keep kids busy with nature. Change your morning run route to get in more parks and green, shaded areas. Encourage them to collect morning treasures – leaves, cones, flowers and feathers. Make a pressed scrapbook of them all. The fringe benefit is that the walk or run is healthy and will tire them out, making them more relaxed for meal time and even that noon nap.
Visit a zoo or national park
Weekends often mean bored and cranky kids, and in turn parents too tend to get
stressed
. Keep the kids away from malls and take them to a zoo, national park or ecological park around your area to keep kids busy with nature. Buy a handbook of animals, birds and plants and have fun trying to spot what's around you. You can also encourage your children to take photos of all that they can spot, or draw what they see to keep them creatively engaged in the trip.
Get arty with nature
Bird feeders from plastic bottles or leaf-printed wall hangings – nature has many
art and craft
materials to work with… You can choose to collect these nature-inspired art and craft materials during the morning walk or simply scrounge through your backyard for some – looking for materials and making the project will surely keep kids busy with nature, and then having their arty ideas come to life will make their day, too!
Go green
Gardening with kids may be a messy and somewhat time-consuming affair, but
kids can learn so much
 from it. From a very early on botany lesson to a healthy respect for plants to puffed up pride when what they plant bears fruit (literally) –
gardening is good
for the kids and for you, too. Never mind the dirty clothes – a lemon squeezed into the washing machine along with your laundry soap will take care of that.
Camp in the Backyard
Finally, on days just too uninspired, pitch a tent in your backyard, patio or even balcony in the night, switch on a torch, eat marshmallows and watch the stars…
Here's to a happy, nature-loved time with your kids.