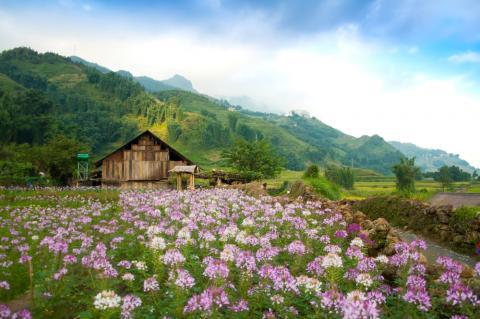 Summertime's a'comin'!  The kids are out of school, the weather is warmer – and you're probably thinking about that summer vacation you've got planned.
Don't have a summer holiday on the books yet?   Consider a different kind of vacation – a farm stay.
Farm stays have been popular in non-U.S. countries for years – Australia, New Zealand, and Italy (agriturismo) are especially known for their traditional farm stay programs that allow workers to experience life on a working farm.  But farm stays are gaining popularity in the United States and Canada, too, as more people seek a respite from the bustling city or want to forge a deeper connection to the food they eat.
A farm stay can be almost anything you want it to be.  Sometimes categorized as agritourism, a farm stay can be a solo experience or a family trip, in lush accommodations or in a tent, and there are farm stays all over the world.  Often, the farms provide breakfast and/or other meals during your visit, in addition to lodging, and the type of work you can do is as varied as the farms themselves.  At one, you might help make cheese or weed the garden; at another, you may be shearing sheep or picking apples; at yet another, you may find yourself feeding chickens and turning compost.  Think about what you want out of a farm stay, and look for a host farm that will give you as close to that experience as possible. 
Here are some things to consider.
Accommodations
Luxury levels for farm stays run the gamut from a tent to a nice, comfortable guesthouse.  Some farmers even host you right in the house with their family!  Sometimes you'll find that old farm buildings have been converted into sleeping quarters.  Some farm stays even have spas, saunas, or swimming pools!  If lavish comfort is important to you, you probably won't be happy at a campsite with an outhouse – choose accordingly.  Another tip: cell phone service may be spotty at some of these locations, and you won't necessarily have wifi access, either.  If you can't be unplugged while you're away, check with the farm to find out your options.
INDULGE IN A MASSAGE:  Want to enjoy an in-room massage after feeding the farm animals and gathering eggs?  Try Southern Grace Bed & Breakfast in Brandenburg, Kentucky, and you can easily transition from comfort (wifi, lush linens, free Netflix) to bucolic (fishing, farm animals, star gazing).
Food
Food options vary as much as sleeping quarters – on some farms, they'll feed you three square meals a day served around a family table, while on others you're on your own for meals but have access to the farm's kitchens, produce, and eggs.  You might find that farms will provide breakfast and let you do your own thing for dinner, or vice versa.  You might have access to campfires, grills, or wood-fired ovens.  Dining could be communal or private.  Some farms ask you to reserve your meals in advance, so they can plan accordingly.  Remember: not all farms will be close to stores or restaurants; ask about food in advance and be prepared to bring some items if needed.
Follow a special diet? Some farm stays are explicitly vegetarian or vegan; others can accommodate special diets upon request.  Be prepared to make your own meals, if needed.
ENJOY VEGAN FOOD:  Piebird Vegan Farmstay in Ontario, Canada, is (obviously) vegan – in addition to being an animal sanctuary.  The vegan farm is also an heirloom-seed company and the meals there reflect this attention to produce.  Owners say they plan menus around what looks good in the garden that day, emphasizing seasonality and spontaneity.  Guests can dine communally or privately, but reservations are requested.
Work
Most farm stay hosts realize you're on vacation and don't work you to the bone while you're there.  In fact, most farm stays don't even require you to do any chores (although some do -- ask if you're not sure), but they encourage you to help out as much as you'd like.  There will be plenty of time to get a feel for daily farm operations and still relax with a glass of wine or a nice hike, too.  Some farms even have other activities on-site or nearby – things like archery, fishing, and paddle boarding may be available.
The type of work you'll be doing depends on the farm you're staying at, the season you're there, and the farm's schedule.  Don't expect to drive a tractor (insurance companies often prohibit it), but there are many other things you can do: feed, groom, and clean the animals; collect eggs; pick fruits, herbs, and vegetables; milk goats or cows; help water the garden.  You may or may not be allowed to ride the horses; ask in advance if this is important to you.  If you want to see a specific function or event on the farm (strawberry harvest, perhaps?), inquire in advance to find out when the farm will be doing it and whether guests can participate.
Remember: the farm is a working farm, and the farmers likely have a strict routine they adhere to in order to keep everything running smoothly.  Be respectful of their time and schedule, but ask questions if you have them.  Some farms are more education-oriented than others, providing lessons or classes in addition to hands-on activities, but most farmers don't mind talking to you about their work.  They're usually proud of what they're doing and eager to share it with someone who's interested!
FOCUS ON EDUCATION: Heifer International, an organization that works to end world hunger and poverty (most famously by people purchasing livestock for impoverished families in developing countries), has a working ranch in Perryville, Arkansas.  Heifer Ranch programs focus on educating kids about global hunger, but kids still learn to build a fire and milk a goat.  The Ranch sometimes offers programs for adults, too.
Kids & Pets
A lot of farm stays allow children, but not all – and some have minimum age requirements, especially if they want to help with chores.  Always ask the farm first if you plan to bring children.
Many farms have working dogs, in addition to chickens, goats, and other livestock.  For this reason, some farms don't allow guests to bring pets with them; however, some farms do welcome them, so if you insist that Fido can't be left at home, there's still a farm stay for you.
BRING THE WHOLE FAMILY: Netherfield Natural Farm in Fontana, Kansas, is a working farm featuring cattle, chickens, turkeys, ducks, and gardens.  They embody the farm-to-table mission; their meals feature beef raised right there on the farm and other seasonal ingredients.  Even better?  You can bring your dog and your kids.
Clothes
You should always ask the hosts what type of clothing and shoes to bring, but in general plan on close-toed shoes – preferably muck boots, other boots, or some kind of sturdy shoes that cover a large part of your foot.  (You might want to bring sandals for relaxing around the campsite in the evenings or for communal showers.) Clothing should match the season, but you should bring some long pants and a lightweight long-sleeved shirt even when it's hot; some farm chores require your skin be covered, and you might also want to protect against bugs, sun, and weeds. 
Perhaps this goes without saying – but make sure to bring clothes you don't mind getting dirty.  Some farm stays will give you access to laundry facilities, but don't count on it.
Cost
The cost of the farm stay will depend on a variety of factors – mostly location and accommodations.  If you're sleeping in a tent, expect to pay less than if you have an entire guesthouse to yourself.  Similarly, farm stays near high cost-of-living areas often have higher costs, which are then passed on to the guest – in other words, you might pay more to be near trendy locales than in more remote places.   You might spend as little as $25 for a night of camping, or as much as $400 a night for luxury accommodations for several people.   Based on unofficial research, $100-$150 seems to be a popular range.
Find a farm stay just right for you by region here.
Not quite ready to commit to a full farm stay, but want a similar bucolic experience?  Look for in-between opportunities, like The Nest at Eatwell Farm in Dixon, California, which allows you to stay in a lotus-belle tent in an orchard near a lavender field.  You can choose to wander the farm and orchard and help if you want, but there's no obligation; you get an up-close look at the daily life of a farm, but you can still have that comfortable R&R you associate with "vacation."
Ready to make a bigger commitment to farm living?  Check out Worldwide Opportunities on Organic Farms, or WWOOF, and you can live a home-free life, going from organic farm to organic farm to work and live!