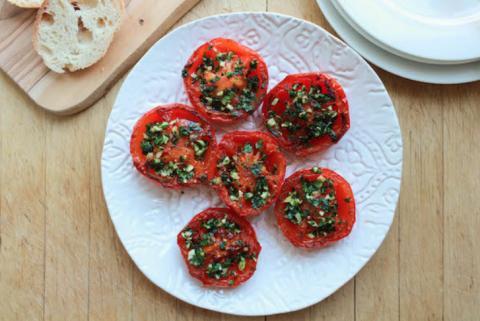 Sometimes falling in love with food is about rediscovering what's right in front of you. Because tomatoes are everywhere all year round—in varying quality—it's easy to forget just how amazing they can be. Summer, when tomatoes are at the height of flavor and many gardens are overflowing with them, is the time to enjoy them. In season they require very little prep to add something special to your table.
Today's recipe, tomatoes with persillade, or parsley sauce, lets all of their natural flavor shine, and it will let you kick up your heels a little since it only takes 25 minutes to make. That may not be the summer vacation of your dreams, but it's certainly a good start.
Food: All The Emotions
Does food make you emotional? If so, you have lots of company. Of course our emotions about it come in wide range, but this Meatless Monday column is all about feeling good, no, great, about food. We all have to eat, so we might as well develop a good relationship with what we're putting in our bodies, right?
Getting to know your food is a path to wellness. Start a garden, visit a farm, cook seasonally. There's something truly awe-inspiring about observing the cycles of nature and how they affect us physically and emotionally. We are cyclical creatures, whether we think in terms of our circadian rhythms or the larger human life cycle. Many of us understand this when we experience the first snowfall of the season, or the first summer berries in our garden, or rain after a drought. While these kinds of experiences move most of us, the intersection between our natural selves and the modern world can present some challenges.
It's Not Quantum Physics, It's A Tomato
So many of you tell me that you know cooking will make you healthier, but you don't have time to cook. You want to cook, but the demands of life get in the way.  There are many ideas about time and perception; I won't go there, but I will say one thing: simplicity. Keep your food simple. When food is eaten fresh and in season, it requires little to taste amazing. And let's face it, few people want to make a soufflé after spending eight hours at an office, but we can handle cutting some tomatoes, cooking them quickly, and dressing them with a few simple ingredients. I'm not going to say that life is not demanding, and that balancing it all doesn't take some practice, but I will say that each time you sit down and enjoy a healthy, home-cooked meal, you're doing something profoundly good for yourself and, by extension, the larger world. And that's how food, eating, and self-care can make you a little heroic. So the next time you see some beautiful summer tomatoes, remember, we're all part of this miracle that is nature, and dig in.
Tomatoes With Persillade (Parsley Sauce)
(Vegetarian, Gluten-Free)
Based on a recipe by Jacques Pepin
Serves: 3, as a side dish
Prep Time: 10 minutes
Cook Time: 15 minutes
Total Time: 25 minutes
Ingredients
3 large, ripe tomatoes
1/2 Tablespoon extra-virgin olive oil
1/2 Tablespoon ghee or butter (see note below)
1/2 teaspoon sea or pink Himalayan salt
1/4 teaspoon freshly ground black pepper
For the persillade (parsley sauce):
4 cloves garlic, peeled
1/2 cup flat-leaf parsley leaves (stems removed)
1/2 Tablespoon extra-virgin olive oil
1/2 Tablespoon ghee or butter (see note below)
Directions
Preheat the oven to 400 degrees Fahrenheit. Core the tomatoes, cut them in half crosswise, and remove the seeds.
Heat an ovenproof frying pan over medium-high heat and add the olive oil and butter (if using), making sure the pan is evenly coated. When hot, add the tomatoes, cut side down, and cook until browned, 3-5 minutes. Be careful not to overcrowd the pan or the tomatoes will steam and break apart.
When the tomatoes are browned, turn them over, season them with salt and pepper, and transfer to the oven immediately. Cook for 10 minutes.
While the tomatoes cook, make the persillade (parsley sauce): Mince the parsley and coarsely chop the garlic. Heat the olive oil and butter (if using) in a small pan over medium heat. When hot, add the parsley and garlic, stir, and cook for 30 seconds, just until fragrant.
When the tomatoes are done cooking, remove them from the oven, transfer to a serving dish or individual plates, top with parsley sauce, and serve.
Additional Cooking Notes
Vegans: substitute additional olive oil for butter.
If you want to save time (and have one less pan to deal with), wait until the tomatoes are done cooking to cook the parsley sauce. After you remove the tomatoes from the oven, set the pan on the stove over moderate heat and add the parsley and garlic immediately. If you opt for this method, be careful not to overcook the tomatoes—overcooking will cause them to break apart and become soggy.
Photos by Shiraz Leyva