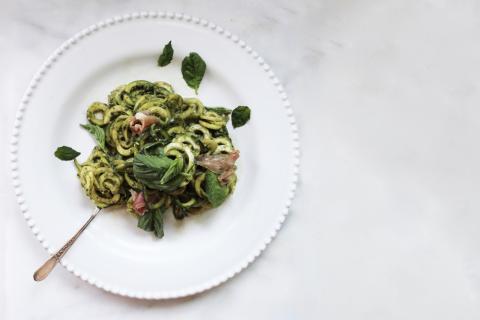 If you're short on time but still want to prepare a fresh, healthy meal, the zucchini that are overflowing in markets and gardens across the northern hemisphere during this time of year are calling your name. During the summer, this supermarket staple is at the height of flavor. Cut, top with walnut pesto (and maybe a little prosciutto if you're ok with that), and you have a delicious dinner in no time at all. And you don't even have to turn on the stove. I'm going to tell you how.
The secret to this dish is in the cut. When zucchini are cut into noodle shapes and paired with pesto, something lovely happens. Zucchini's mild flavor provides a great vehicle for the sweet, earthy, umami flavors in pesto. When cut into long, thin 'zoodles,' more of the vegetable interacts with the sauce, and you really don't need much else. I use a spiral vegetable slicer, or spiralizer, to create a plump spaghetti, or bigoli, shape.
When the spiralizer craze first hit, I was skeptical. People said it would change the way we eat vegetables. And now, four years later, there have been more than a few people who, after turning out a few zoodles, started spiralizing every vegetable they happened across. Of course, a mandolin slicer or even a peeler can be used to cut vegetables into noodle shapes, but a spiralizer makes it ridiculously quick and easy.  And ease of use means this tool will likely lead to more vegetables in your diet.
Start with clean zucchini and trim the short ends so you have a flat edge. Place the spiralizer on an even surface (most have suction cups on the bottom that keep them in place). Put the zucchini on the spiralizer so it's center aligned, press to secure, turn the handle, et voilà, you have zucchini noodles. A mandolin or vegetable peeler produces beautiful fettuccine-like, ribbon shaped 'noodles,' but I find they require a bit more skill and patience. With the peeler, hold the zucchini on the short end and cut ribbons lengthwise. Peel the ribbons off as you go, turning the zucchini as you cut. If you're feeling meditative this is a great task, but if given a choice I prefer the mandolin for a ribbon shape. Once you get the hang of it, it's quick and easy, and you have more control. 
I encourage you to experiment with the amount of sauce you use on the noodles. Some people prefer more of a clean vegetal flavor, while others love more of pesto's umami punch. Either way, zucchini ribbons will require significantly less sauce than noodles. If any pesto is left over, store it in a tightly sealed container in the refrigerator for up to four days. If the top discolors, remove it— the pesto underneath will still be fresh and tasty. Pesto is great to make over the weekend and use atop all kinds of things during the week.  
When I was a child, zucchini were so prolific in our kitchen garden, they seemed magical. How else could they appear, seemingly overnight, if not by some otherworldly power?  And once they were harvested and brought into the kitchen, their culinary range was equally remarkable: sweet or savory, from blossoms to full fruit, zucchini were able and delicious. This dish only adds to their magic.
Zucchini Noodles with Pesto
Serves 4
Ingredients
8 small zucchini or summer squash or courgette (green, yellow, or a combination of both)
For the pesto:
2 cups packed fresh basil
1/3 cup presoaked walnuts
2 tablespoons fresh lemon juice
1 clove garlic, smashed with the back of a chef's (large) knife
½ teaspoon coarse sea salt
¼ teaspoon freshly ground black pepper
⅓ cup extra virgin olive oil
½ cup freshly grated Parmesan
For garnish:
2 ounces prosciutto, thinly sliced (optional)
Directions
Using a spiralizer, mandolin, or vegetable peeler, cut the zucchini into uniform sized "noodles" and set aside.
Make the pesto. Pulse the basil, walnuts, lemon juice, garlic, sea salt, pepper, olive oil, and Parmesan in a food processor until well combined and relatively smooth. Taste and adjust seasoning if necessary.
Add the pesto to the zucchini, making sure the noodles are well dressed. Plate, top each portion with prosciutto, garnish with any excess basil leaves, and serve immediately.
Photo by Shiraz Leyva