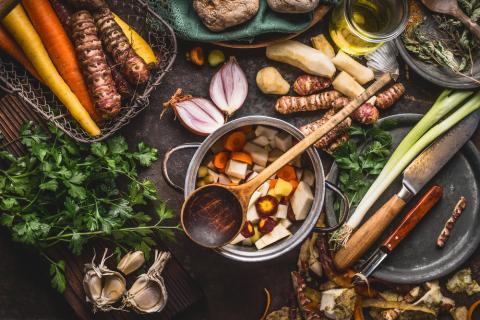 I've been called a soup head all my life, and I certainly live up to that name in autumn. As soon as the weather gets colder, I start making soup almost every day. Here are three hearty soup recipes perfect for autumn that I personally love and make all the time. 
Leek & Potato Soup 
One of my personal favorites, this recipe is great for days I'm seeking a bit more bulk in my meal. The potatoes create a heartiness that help keep you full, and the leeks add that perfect oniony taste.
Note: To create a healthier dish (or to create a vegan option), you can opt out of adding cream and butter. This does change the flavor and texture of your soup, but not enough to make it any less delicious.
Ingredients 
3 large leeks (washed and chopped, dark green parts/roots removed) 
3 large yukon gold potatoes (peeled and chopped) 
1 medium yellow onion (chopped) 
4-1/2 cups vegetable broth 
1/4 cup light cream (optional) 
3 Tablespoons butter (optional) 
2 cloves garlic (minced) 
2 Tablespoons chives (chopped) 
salt & pepper, to taste 
Directions
Melt the butter in a pot over medium heat. (If not using butter, feel free to substitute olive oil.) Add garlic, onion, and leeks. Cook about 5 minutes, or until softened.  
Add potatoes, salt, and pepper. Stir ingredients together and then cover the pot with a lid. Cook for an additional 5 minutes, or until the potatoes begin to soften.
Add the broth, stir, and bring to a boil. Reduce heat to a slow simmer, cooking until potatoes are completely soft (about 10 minutes, give or take). 
Using an immersion blender, or ladling the soup into a food processor/blender, blend until pureed. Then, return the soup to the pot.
Once the soup is completely pureed and returned to the pot, reduce the heat to low and stir in cream. You can also try using a plant-based milk instead of the cream (try cashew milk!).
Cook for an additional 5 minutes or until hot. Top with chives, serve, and enjoy! 
Root Vegetable Soup 
In the fall and winter months, root vegetables are my saviors. They add so much to a meal, and sometimes, they are the meal! This soup really exemplifies why I love root vegetables and pays them homage for being such delicious plants. 
Ingredients
1 large sweet potato (peeled and chopped) 
1 parsnip (peeled and diced) 
2 carrots (peeled and diced) 
1 turnip (peeled and diced) 
4 cups vegetable stock 
1 cup coconut milk 
1/4 teaspoon fresh rosemary (minced) 
1 Tablespoon pure maple syrup 
1 teaspoon fresh thyme (minced) 
salt & pepper, to taste 
Directions
Preheat oven to 400 degrees F. Place a piece of tin foil on two cookie sheets and spread some oil onto them.
On one cookie sheet, place diced carrots and parsnips. On another, place diced sweet potato and turnip.
Place both cookie sheets in the oven and roast the vegetables until tender, about 35 minutes. Be sure to check the sheets periodically—the sheet with the carrots may be done first. 
When all the vegetables have finished roasting, remove them from the oven and carefully transfer them over to a high-speed blender. Add the coconut milk, stock, thyme, rosemary, maple syrup, salt, and pepper. Process the soup until smooth. You can also use an immersion blender or food processor. 
When the soup is the perfect consistency, serve immediately or pour into a large pot on the stove and reheat briefly. Season with additional salt and pepper to taste. 
Autumn Squash Soup 
Nothing screams autumn more than pumpkins and squash. They're the perfect fall produce and taste phenomenal in soup. To honor these traditional fall favorites, give this autumn squash soup a go. You won't be sorry! 
Ingredients
1 Tablespoon extra virgin olive oil 
1 small yellow onion (diced) 
2 pounds chopped butternut squash (about 6 cups) 
3 small carrots (chopped, about 1 cup) 
1/2 cup pumpkin puree 
3-4 cups vegetable broth 
2 cups apple cider or apple juice (NOT apple cider vinegar) 
1/2 teaspoon curry powder 
1/4 teaspoon cinnamon 
pinch of nutmeg 
1 Tablespoon brown sugar 
salt, to taste 
heavy cream (optional) 
Directions
In a large pot, heat oil over medium high heat, adding chopped onions. Sauté until translucent, making sure to stir frequently.
Add the squash, carrots, apple cider, vegetable broth, and spices once the onions are slightly see through. 
Bring everything to a boil and reduce to a simmer for 10 to 15 minutes, or until squash and carrots are soft.
Remove from heat and add pumpkin puree and brown sugar. To thicken, you may wish to add some butter or heavy cream (optional—use as much as you'd like).
Puree your soup with an immersion blender, or in batches using a high-speed blender. Blend until the soup is smooth and velvety.  
Add salt as desired. Feel free to add more brown sugar (or honey) if you like a sweeter soup. If your soup is too thick, add more vegetable broth to thin. Reheat your soup, if need be, after blending. Then, serve immediately and enjoy.