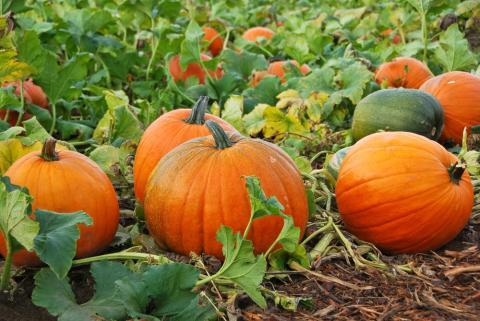 Fall is here, which means crisp weather and plenty of fall produce. Why spend autumn indoors when you could be outside? Here are 10 ways to enjoy fall by heading outdoors. 
Gather fall leaves for a dried flower arrangement 
Fall leaves are the most beautiful: You can find so many different shaped leaves in an array of colors like yellow, orange, and red. Their beauty is so stunning you'll probably want to take some of it indoors, which you can. Creating a flower arrangement using only dried fall leaves is a fun way to bring the beauty of fall indoors. All you need is a pretty vase and some autumn leaves. A great idea is to look for some fallen branches that still have autumn leaves attached to them. Or, while doing yard work, prune some smaller branches with leaves on them for your "flower" arrangement. Depending on how big you want your arrangement to be, you'll have to use your judgement on how long you want the branches. You can choose to combine different fall leaves and colors, or stick to only one color and leaf shape. The choice is up to you, but regardless, it will look beautiful. If the branches are freshly cut, put some water at the bottom of the vase to help them last longer. Place your arrangement in any part of the house you think needs a pop of autumn color, such as the living room, bedroom, or dining room.  
Jump into a leaf pile  
What child could resist jumping into a leaf pile at some point? Let your inner child out and jump into one yourself. You can do this alone or with loved ones. Just let yourself go and release yourself from judgement:  Don't let your inner critic come out and ruin it for you by saying stuff like "What if I look silly?" or "What if someone is watching me?" Challenge that inner critic by asking back, "Who cares?" and going for it. Just let yourself be silly, laugh, and have fun. Jumping into a leaf pile is a great way to get outside and connect with the season.  
View foliage by bicycle instead of by car 
Often in the fall, cruising around town to see the changing leaves is very common. However, driving doesn't really let you have the full experience. There's glass between you and those leaves—you can't feel the crisp autumn air or reach out to touch a colorful, crunchy leaf. You also still have to pay attention to the road if you're in the driver's seat, and what fun is that? Instead, try biking around your neighborhood and admiring the leaves. It's so much fun to cruise around, feeling the wind hit your face, and enjoy the leaves with nothing blocking you. Plus, you get some exercise in the process—which is beneficial for your body.
Pick pumpkins & apples at a local orchard 
Every fall, I personally love going apple picking. I've been doing it for years ever since I was little, along with pumpkin picking. I still keep that tradition going, but now I go with my boyfriend and our friends. Check and see what local apple and pumpkin orchards you have near you. A quick google search should yield some results. If you live in a city, expect to find more outside of your city that you'll probably have to get to by car. If that's the case, see if you can carpool with some family and friends to make getting there easier. Some apple orchards have a pumpkin patch you can pick from. Others only have apples, and you have to go to a separate farm to pick pumpkins. Look into it and see what the orchards near you offer and decide what's best for you. Picking your own produce is such a great way to connect with the seasons and live intentionally. Everyone should know where their food comes from, who grew it, and how it was grown. Before visiting any orchard, make sure you look into the way they grow their crops, as you don't want to purchase from a farm that uses heavy pesticides. 
Find your way through a corn maze 
There's nothing like going through a corn maze in the middle of autumn. There's just something so exciting about it. It gives your brain a low-risk challenge and finding your way through gives a sense of achievement. Some corn mazes like to have people jump out and scare you, depending on where you go. If you're not into this, look for ones you can go to that are just about exploring and finding your way out, with no jump scares. Lots of farms that grow and sell other produce also have corn mazes on their property. Check and see what's local to you and give it a go. 
Make a scarecrow 
Scarecrows are fun to make, especially with the help of a loved one. You can make one using some wooden garden stakes, some old clothes and shoes, and a little imagination. First, consider the size of the scarecrow you want to make—how big do you want it to be? If you want it to be small, you'll have to take that into consideration and use baby or kid clothes. If you want it to be big, use your own old clothes. Essentially, you'll need two pieces of wood, roughly the same size and shape, to build a frame shaped like a cross. Then you'll have to hammer it into the ground and put the clothes on it, making sure to stuff them full of hay. You'll want to tie off the sleeves and pants legs as you do so. Add the boots and head of the scarecrow last. You can stuff an old pillowcase full of hay for the head, adding any details you'd like to it after you stuff it and attach it. There are plenty of tutorials online you can look up and find with a quick search. It's not too hard and can be a lot of fun!  
Drink hot cocoa while walking outside 
Hot cocoa is a delicious drink, perfect for cold weather. That said, it's a lot more fun to drink it when you're walking around outdoors, admiring the changing leaves. Grab it in a reusable to-go travel mug from your favorite local coffee shop or make it at home and store it in an insulated travel mug you can take with you. Try to avoid creating waste by putting it in something reusable (better for you and the planet). Sip your warm beverage as you look up at the beautiful, ephemeral leaves. Walking is a great, low-stress way to burn some calories too, so you won't feel as guilty drinking your hot cocoa. If you make the hot cocoa from home, you can also make sure it's a little healthier than store bought (here's a vegan superfood hot chocolate recipe you'll adore with none of the guilt). Enjoy and drink up! 
Read a book in your favorite park 
What's your favorite book to read in the fall? Something spooky to celebrate Halloween's swift arrival? A story that takes place in autumn? Whatever you like to read, grab it and head on over to your local park. Plop onto a bench and read it outdoors. It's a great way to get some fresh air and just relax. Reading outdoors is great because you can always take a break and just look up to admire the crisp fall day. This is the sort of activity to do when you just want some peace and quiet. It's perfect for when you want to be alone and get out of your house for a bit. 
Paint pictures of the brilliantly colored trees 
Even if you're not a very good painter (or at least don't consider yourself to be), painting is fun! It's a meditative experience that can also be very soothing and relaxing. Consider giving yourself the challenge to paint some brilliantly colored fall trees. Perhaps you can set up an easel outside, right by the trees, or you can work from memory. You can also use a photograph for reference, or look out the window as you paint. Whatever you prefer, choose your paint medium (acrylics, water colors, etc.) and canvas. If you're painting on a piece of paper with the table as your surface, make sure to lay down some newspaper first to prevent making a mess. Set up your paint station and a cup of water for cleaning your brush. Then, get painting! Let your creativity take over and don't let your inner critic ruin the experience for you. Painting should be fun, soothing, and rewarding. When you're finished, let your artwork dry, and feel free to hang it up somewhere if you really like how it came out. 
Buy root vegetables at a farm stand and make soup 
I love going to the farmers market every weekend. I tend to eat very seasonally, so when fall comes around, I get excited for the root vegetables that pop up at the market (along with other seasonal produce of course). I recommend grabbing some root vegetables like carrots, turnips, and parsnips to turn into a delicious soup. You can pair them with celery, lentils, onion, garlic, vegetable broth, and of course, salt and pepper to taste. Use whatever other seasonings you like as well to create the perfect root vegetable soup. I also like to add a little olive oil to the soup for flavor. Usually, I'll let a soup like this cook one to two hours, if not a little longer, just to make sure all the root vegetables are nice and tender. Make sure to chop them up as thin as you can so they cook a little faster (the thicker the cut, the longer it takes). Feel free to experiment and make your own perfect root vegetable soup. It'll taste delicious and epitomizes fall. Plus, the ingredients will be so fresh and extra tasty because you got them from a local farm—what could be better than seasonal, fresh produce?