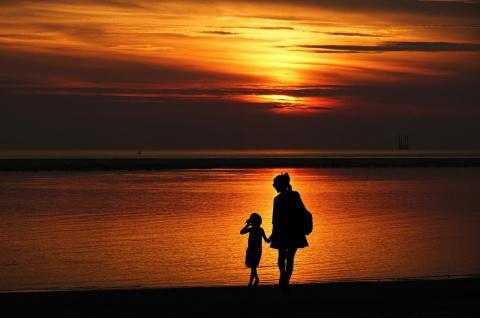 With Mother's Day just around the corner, most people are scrambling for gifts. Despite what commercial businesses might tell you, most mothers appreciate time spent with their children more than any cheesy greeting card or last-minute bouquet from the grocery store. But second to time are homemade gifts, where a tangible amount of thoughtful time and effort went into making something for your mom. Here are seven easy, holistic, and fun gifts for your mom this Mother's Day. Get crafting!
1. Homemade Card
Homemade cards aren't just for little kids. Most craft supply stores offer a wide variety of cardstock, various felt crayons, pencils, and pens, and plenty of stickers, stencils, and even ribbons to decorate your kid. Not so crafty? A quick google search should bring up plenty of how-to card examples, ranging from sweet (think soft pink paper and simple phrasing) to spunky (think cheeky create-your-own comics.) To make your gift more environmentally-friendly, try cutting words and pictures from used magazines, or decorate with used wrapping paper and other scraps.
2. Facial Scrubs
If gifting your mom a spa facial is out of the budget, try making a homemade version with healthier ingredients. These recipes use bases like brown sugar, oats, and baking soda for exfoliation and olive oil, aloe vera, and coconut oil for nourishing moisture.
3. Chocolate
There aren't any women in my life who don't like chocolate; for that reason, homemade chocolate is almost always a guaranteed win—plus, chocolate has an array of benefits. Cacao, the primary ingredient, contains high amounts of magnesium, iron, and manganese, and is rich in skin-protecting flavanols and antioxidants. Recipes like this one utilize ingredients found in your home and have the bonus of being vegan. Making your mom dinner? Serve this decadent chocolate mousse as dessert. 
4. DIY Terrarium
Terrariums are glass containers, usually filled with cactus or potting soil, a variety of succulents, and seaglass, beechwood, or other trinkets. Nurseries often sell these pre-made, but it's easy and fun to make your own. A variety of glassware works, including bowls, wide-rimmed mugs, wide-based vases, and orbs (which can be easily purchased at most craft stores). Simply fill with soil, a variety of small succulents, a few quartz crystals, and a ribbon wrapped around the terrarium. Besides looking pretty, terrariums have great benefits. Succulents absorb carbon dioxide and release oxygen during the night, meaning a higher oxygen intake for you at night (especially if you keep yours on a nightstand next to the bed.) Quartz crystals, especially rose quartz, offers unconditional self-love with links to the heart chakra—what better way to say "I love you" than that?
5. Customized Tea
Hugs are cozy, warm, comforting—just like tea, right? When you can't be there to give your mom a hug, give her tea instead. Homemade teas are easier than you think to make, and the possibilities are nearly endless. This DIY tea recipe is simple to follow: choose your mom's favorite flavors, grab a small bag of loose leaf tea from the bulk section of a natural grocery, and present in a pretty tin or pre-bag in compostable tea bags. If your mom struggles with specific conditions, like high blood pressure or painful PMS, herbs like hibiscus and raspberry leaf can be highly beneficial. Does your mother adore chai tea? Make her a healthful version using this Super Immune-Boosting Chai Tea Recipe or add a few teaspoons of cinnamon, ginger, cloves, and cardamom to her favorite black tea for a customized blend.
6. Aromatic Sprays 
Aromatic sprays are an easy way to spruce up a drab room without physically making a big change. A variety of sprays can be made using essential oils like lavender, clove, lemon, or sage—all with their own benefits. Use a large glass bottle for cleaners and room sprays, and smaller bottles for facial sprays. If your mom has long hair or loves trips to the salon, a homemade hair volumizer or lightener is an even better bet. This recipe uses rose petals for a pleasant smell, too.
7. Dinner
Breakfast in bed is always a popular idea, but for a twist, why not try planning a homemade, 4-course dinner? Is your mom vegan or vegetarian? This stuffed acorn squash makes for a fantastic entree, especially if preceded by a light spring salad or vegetable soup. Does your mom like fish? This salmon recipe is packed with heart-healthy omega-3s. Dessert is an easy decision: this dairy-free Peanut Butter Chocolate Nice Cream is creamy, made with essential oils, and vegan-friendly. Bon appetit!