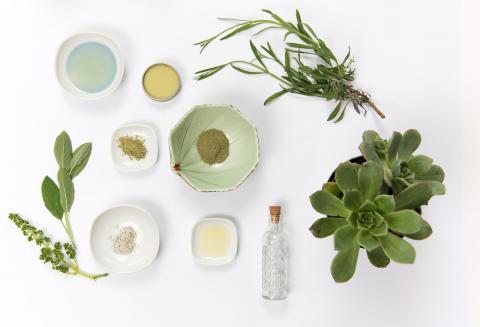 Have you ever tried using a facial scrub? If not, you should: It's a really powerful exfoliator. Your skin loses skin cells every day and sometimes it needs a little help getting them off your face. By using a gentle (all natural) facial scrub, you'll help your skin shed any dead layers that don't want to come off. This is important if you want to make way for new, rejuvenated skin! If you feel like your skin is extra dry or dull, a facial scrub could be exactly what you need to give it that extra glow. However, using a natural facial scrub is so much better than a store bought one. Natural face scrubs don't contain micro-plastics (bad for the environment and your health!) which can be too abrasive on the skin. Instead, try one of these DIY facial masks. They're super easy to whip up and, as a pleasant bonus, make great last-minute gifts!
(Note: When not in use, all these scrubs should be stored in air-tight glass jars for further use.)
Olive Oil Sugar Scrub 
Probably the most basic facial scrub on the list (and my personal favorite), this one never lets me down. It's super simple but beyond effective. I use it whenever I'm suffering from dry skin (typically in the winter). My cheeks and forehead are usually the culprits. I totally recommend trying this facial scrub out: It will leave you with super smooth skin! Bonus points: It can be used on dry hands and lips, too. 
Ingredients:
1 tablespoon olive oil 
1-1/2 tablespoon sugar (brown or white sugar works fine—just make sure it's not too coarse) 
Directions: 
In a bowl, combine the olive oil and sugar together. Feel free to add a little more olive oil if you'd prefer a more liquid-to-sugar ratio.  
Once combined, start spreading the facial scrub onto your face. Make sure to rub it in gently and spread it everywhere—but avoid your eyes, nose, and mouth! While this scrub is safe to eat, only put it on your mouth if you'd like to exfoliate your lips, too. 
After you've exfoliated your skin for at least one minute, rinse off with warm water. Your skin should feel extra soft! Repeat this at least once or twice a week for best results.  
Honey Oatmeal Face Scrub 
A honey oatmeal facial scrub is super exfoliating, but not too abrasive. It can also double as a mask! 
Ingredients: 
1 tablespoon honey 
2 tablespoons old-fashioned oats 
Directions: 
Combine the ingredients together in a bowl and apply onto your face using your fingers. Rub it into your face in circular motions. Do this for at least one minute. Rinse off with warm water and repeat once or twice a week. 
Strawberry Coconut Face Scrub 
Want to leave your face smelling amazing? Make yourself a strawberry coconut face mask! You'll feel like you just stepped into summer. 
Ingredients 
2-4 fresh strawberries (preferably organic) 
1/4 cup sugar 
1 tablespoon coconut oil (can swap with almond or olive oil) 
Directions: 
Mix the sugar and coconut oil together until well combined. 
Cut your fresh strawberries up into tiny pieces and then place them into your sugar mixture. Using a spoon, start smashing the strawberries together and mix them into the sugar mixture.  
When you're ready to use it, get your face damp and run a nice amount all over your skin in circular motions. Do this for at least one minute and then rinse off with warm water. 
Aloe Green Tea Face Scrub 
This scrub is great because it moisturizes your face as you use it. In other words, you won't need a ton of (or any) moisturizer afterwards. Get ready to feel super soft and smooth! This is ideal for those with super dry, flaky skin. 
Ingredients: 
1/3 cup coconut oil 
1/4 cup sugar 
1 tablespoon aloe vera 
2 green tea bags (or 2 tablespoons loose green tea)
3-4 drops vitamin E oil (optional) 
Directions: 
Cut open tea bags and add the dry tea (or 2 tablespoons of loose green tea) to the rest of the ingredients. Mix really well. Once it's done, apply it to your face and scrub away for at least a minute. Rinse with warm water.  
Baking Soda and Coconut Oil Face Scrub 
This scrub is so gentle that it's perfect for those with extra sensitive skin. Hey, some people just cannot handle sugar (or salt) facial scrubs, and that's perfectly okay. Here's a less abrasive scrub that'll still do the trick. You can also use it as a full body scrub as well! 
Ingredients: 
2 tablespoons baking soda
1 tablespoon coconut oil
3 drops tea tree oil (optional—good for acne-prone skin!)
3 drops lemon oil (optional—smells great!) 
Directions: 
In a bowl, combine all the ingredients and mix them well. Apply it to your skin, massaging in circular motions for at least one minute, if not longer, to allow the granules to remove dead skin cells. Rinse off with warm water.