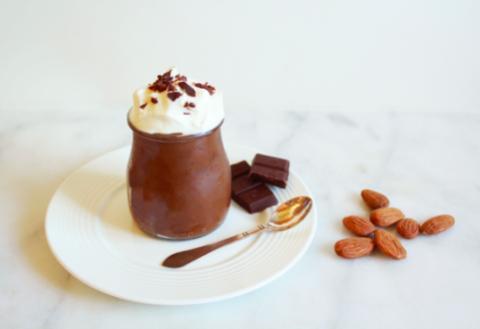 If you want to serve a dessert that will produce lots of smiles this holiday season, you can't go wrong with chocolate mousse. If you want to create a delicious, nutritionally significant treat, trying adding avocados to your chocolate mousse. If you've never tasted chocolate avocado mousse, you just might find that you love it; and for those of you who are practiced with it, I think you'll appreciate the unique, slightly floral flavor in this recipe.  An added benefit—especially during the busy holiday season—is that it takes about ten minutes to put together (outside of refrigeration time). 
After the sun-drenched energy of summer, fall is a good time to slow down a little and allow the body to restore itself. With flu season quickly approaching, it's especially vital to take care in an effort to strengthen immunity. But this can be challenging; the frenetic activity of returning to work and school and the start of the holiday season can interrupt even the most well established self-care rituals. When you haven't found time to go to yoga and it's too cold to enjoy a walk, what you eat becomes more important than ever. During the fall and winter, healthy fats are emphasized in the Ayurvedic diet. They warm the body, assist in the absorption of vitamins and minerals, and moisturize skin from the inside.
I love the holiday season with all of its festivities, gatherings, and food. And although I'm typically the first to volunteer to make the homemade eggnog, by the time Christmas rolls around, I'm often running on my last energy reserves and regretting the three months of industrial dairy I've consumed. American holiday food is cream-heavy, from pumpkin pie to mashed potatoes, and although real cultured cream is incredibly healthy for many of us, the majority of the foods we encounter are filled with the type of dairy that's toxic to our bodies.  As if that isn't bad enough, many of these foods are loaded with processed sugar and unhealthy fat. But not chocolate avocado mousse.
I love sweets, so I'm always looking to make them as healthy as possible. I often use raw dairy products, but they can be hard to find. One day when I was without raw cream for chocolate mousse, I reluctantly gave avocados a try. I was categorically opposed to sweetening avocados and mixing them with chocolate, but after the first taste, I got over it. The result was delicious, luscious, and even kid-approved. Avocados are packed with vitamins, minerals, and the kind of healthy fat that is especially good for us during this time of year. Use good quality dark chocolate and unsweetened cocoa and you'll have a nutrient dense dessert.  Melted chocolate is a must—it creates a depth that goes hand in hand with avocado's richness. After a few recipe tests, I added a drop of black pepper essential oil. In this form, black pepper loses its heat and displays a floral side that works nicely with chocolate, vanilla, and avocado. For those of us who love food, black pepper essential oil offers an interesting opportunity to know this common spice in a new way. 
When I first heard about chocolate avocado mousse, I thought, really?  During the course of my life, I've witnessed the ascendance of the avocado. When I was growing up in Southern California, avocados were plenty. It wasn't uncommon for neighbors to share fruit that was falling from trees in their yards. I had no idea that the rest of the world was largely bereft of avocados until I went away to college.  Of course that's all changed in recent years due to trade agreements and marketing. Now avocados are available pretty much year round in most of the U.S. Consequently, the avocado has become the subject of innumerable Instagram homages and appears on everything from toast to t-shirts. All of this craziness led me to doubt chocolate avocado mousse as just another farfetched marketing ploy, but I stand humbly corrected. With this recipe, the avocado transcends another category—dessert. In doing so, it yet again makes the world more of an unapologetically delicious place.
Vegan Chocolate Avocado Mousse with Black Pepper Essential Oil
Serves 4-6
Ingredients
½ cup maple syrup
1 tablespoon pure vanilla extract
1 drop food grade black pepper essential oil 
4 very ripe avocados, pitted and peeled
½ cup unsweetened cocoa powder
¼ teaspoon sea salt
4 ounces bittersweet chocolate (or ½ cup chocolate chips) 
Garnish (optional)
shaved chocolate
nuts (pistachios, walnuts, or almonds work well)
Directions
Measure maple syrup and vanilla into a glass or other nonreactive bowl. Add black pepper essential oil, stir to combine, and set aside.
Place the avocados, cocoa powder, sea salt, and vanilla in a food processor and set aside.
Cut the chocolate into small pieces, and place in a double boiler (a bowl over a small saucepan of water). Bring to a weak simmer over low heat, stirring the chocolate until melted. 
Add melted chocolate to the food processor basket and blend until well combined, scraping down the sides of the bowl as necessary. Add maple syrup/vanilla/essential oil mixture and process until smooth.
Spoon chocolate mousse into serving bowls, cover, and refrigerate for at least three hours or up to one day.  Garnish with chocolate shavings and nuts, if using, and serve.
All images by Shiraz Leyva