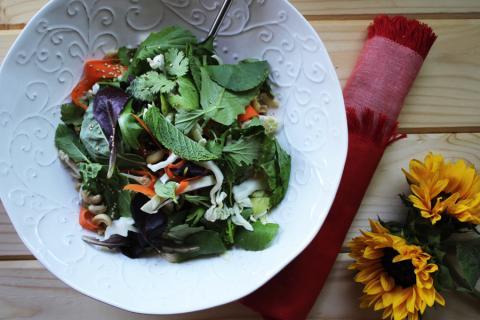 Do the gorgeous blooms of spring turn you into a sneezing, sniffling, itchy-eyed mess?  If so, food can help.
We were sitting by the pool enjoying one of the warmer days of spring when a dear Claritin popping friend noticed: I'm allergy-free. I had suffered from mild seasonal allergies since childhood, even after years of enjoying numerous other benefits of a healthy lifestyle. So what had changed? Over the last year, I began to shift my diet with the seasons. My idea was to live more in harmony with nature, and my allergies disappeared in the process. 
Although I've been eating a real food diet for more than 20 years, I managed to remain largely oblivious to seasonal foods. Shopping at the grocery store – where food is shipped in from all over the world – encourages that kind of obliviousness.  And let's face it, when the cruel New York winter gets you down, strawberries in Whole Foods can be like a beacon from some dreamy, warm, far away place.  But when those gorgeous sirens call, there's good reason to wait a few more months.
The first reason to eat seasonally is taste. Think about it, how do you feel after a stuffy long haul flight? Like us humans, food is simply better when it's not crammed and shipped long distances. The other reasons are couched in the old idea that seasonal foods are meant to support the body's needs at a particular time.  For example, in fall-winter Ayurveda favors foods that are heavy, high-fat, and high-protein such as meat, nuts, and seeds, which warm and balance the accumulation of dryness in the body. To move us gracefully out of the internally focused time of winter, when spring rolls around, lighter foods such as bitter greens and berries are suggested. Spring foods are energizing and give the body a fresh start.  They cleanse the body of winter build-up and balance moistness, which is particularly helpful as we begin to spend more time outdoors and are exposed to increased dampness and pollen.
Now that spring is here, I want you to feel refreshed and energized like the little buds that are bursting forth from the earth.  So today I present you with a salad that's abundant with the energy of spring herbs and vegetables. Paired with a slightly warming coconut and sesame oil dressing made tangy with a few drops of lemongrass essential oil, this is a great salad during the alternating cold/warm cycles of spring.  The inclusion of cashews and sesame seeds make it surprisingly satisfying, but you could also add tofu, or even chicken, shrimp, or squid, if you're of that persuasion.
These days I'm extolling the benefits of seasonal eating every chance I get.  In Ayurveda, it's believed that if you balance the winter's dryness through diet, you'll produce less mucus in the spring, which could very well be the reason I'm not sniffling and sneezing.  And since I've been so good and feel so great, I'm going to have a glass of champagne to celebrate, because a little of that is always in season.   
Spring Salad with Tangy Lemongrass Dressing
Serves  4
Ingredients
For the dressing:
¼ cup virgin coconut oil (use gentle heat to melt if necessary)
2 tablespoons toasted sesame oil
3 tablespoons brown rice vinegar
2 tablespoons honey (clear honey is easiest to use)
1 teaspoon sea salt
1 teaspoon finely grated fresh ginger
1 garlic clove, minced
2 drops food grade lemongrass essential oil
For the salad:
4 cups shredded cabbage
2 cups chopped mixed greens
1/3 cup chopped cilantro
1/3 cup chopped mint
1/3 cup chopped parsley
½ cup chopped basil
½ cup spring onions or scallions, thinly sliced
1 carrot, cut into thin ribbons
1 cup presoaked cashews
½ cup sesame seeds
Directions:
Make the dressing by mixing all the ingredients in a nonreactive (preferably glass) container. Cover and shake vigorously until everything is well combined. Set aside.
In a large bowl, mix together all the salad elements. Add dressing and toss.