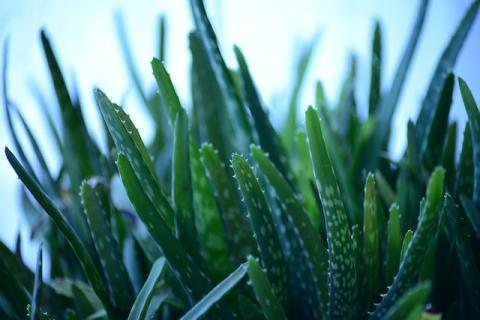 Aloe Vera is becoming increasingly popular, and for good reason. This herb is fantastic for digestion, inflammation and overall gut health. 
Aloe Vera is more commonly used for topical burns, skin rashes and antibacterial use, but you can totally eat this stuff! Pick up some aloe leaves the next time you're at the grocery store. The gel can be easily taken out and added to smoothies or coconut water. Aloe gel is extremely soothing, and is especially refreshing to add to drinks on a hot summer's day. If you're not a fan of lugging home giant leaves, you can also find Aloe Vera juice in most health food stores.
Aloe Vera is amazing when it comes to gut health. The gel soothes stomach and intestinal lining, regulates digestion and eases constipation. Because of the gel's anti-inflammatory effects, it can effectively heal intestinal inflammation and help those suffering with leaky gut and other digestion issues. In addition to being a great anti-inflammatory, aloe is an alkalizing herb, so it can also balance the pH of your stomach acid, reducing acid reflux. Because of the gel-like consistency of aloe, it works as an effective laxative by stimulating mucous secretion, increasing intestinal water content, and providing enzymes.
Aloe is a powerhouse when it comes to nutrients. It's classified as an herb, so its main use is medicinal. Some of these uses include, supporting memory, improving mood and balancing blood sugar. It also contains vitamins A, C, E, and B12, and potassium, magnesium, and zinc. If you're growing tired of the usual coconut water, Aloe Vera juice is a great substitute! It can replace electrolytes and replenish potassium stores in the same way coconut water does.
Here is an Aloe Vera smoothie that is quick and oh-so-refreshing.
¼ cup Aloe Vera gel
½ chopped cucumber
1 cup coconut water
½ cup frozen mango
Blend on high until completely blended. Makes 1 serving.
Another great thing about this magical gel is that it's water based. For those with oily skin, it's an absolute godsend and keeps your skin hydrated and fresh. I've gotten in the habit of combining Aloe Vera gel, raw honey and rose hip oil to make a nourishing, refreshing facial mask you can wear overnight. The raw honey and aloe provide humectant properties that moisturize the skin without oils or heavy lotions. Because of its antibacterial properties, aloe gel can also be used to treat skin disorders such as dermatitis or even psoriasis. And of course, Aloe can famously accelerate the healing time of burns; it can also soothe a bad sun burn and prevent sun damage to the skin.
So the next time you see those big green leaves at the supermarket, do not fear, because inside is a wealth of vitamins and nutrients that can benefit your health in more ways than one.  Do make sure to mind the dosage, and use only the parts you need – this plant can cause digestive upset.