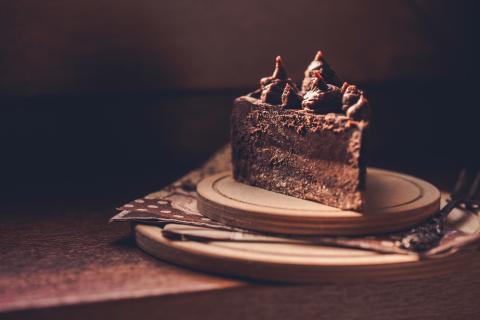 Vegan chocolate is ridiculously simple to make. In fact, you're going to wish you knew how to make it sooner, instead of spending money on pre-made chocolate. Even if you're not a vegan, you'll appreciate the simplicity of this recipe. Not to mention it tastes great (especially for those who love dark chocolate)! To make matters better, not only is it healthier for you but it's also easier: This is a no bake recipe! Sweet (pun intended)! These also make great gifts for any occasion (party favors, weddings, holidays, you name it). Ready to take a bite? 
Ingredients: 
1/4 cup coconut oil 
1/4 cup cocoa powder (or cacao powder) 
2-3 tablespoons of maple syrup 
Note: This should make approximately 3 chocolate bars, assuming you're using chocolate bar molds. You can also use really cute flower or heart shaped molds for bite sized, pop-in-your-mouth chocolate snacks. Totally up to you. 
Directions: 
In a bowl, whisk all the ingredients together. Make sure to eliminate any lumps. Trust me when I say this shouldn't take long (two minutes, tops).  
Now pour your mixture into the molds of your choice. Here's a cute break-apart chocolate mold you might want to give a shot. Put the molds into the freezer and let it set for at least and hour. This will make the chocolate nice and firm. Just keep in mind: the bigger the mold, the longer it needs to stay in the freezer.  
Once the hour is up, take the mold out of the freezer and pop the chocolate out. Congrats: You just made vegan chocolate from scratch!
Note: This chocolate will have the slightest hint of coconut flavor. It's very subtle though, so no worries!