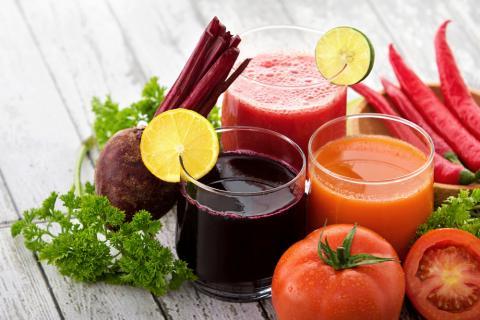 Drinking juice is a pleasant way to keep your diet packed with nutrients. If you use organic ingredients, you can also avoid absorbing pesticides, herbicides, and other chemicals that are unfortunately often found in many contemporary food products. A juicer processes the fruits and vegetables you need into an easily digestible and tasty form. Here are five delicious and healthy juice recipes—use organic ingredients if you can. The first four are recommended to be made with a juicer and the last is more of a smoothie variety that can be made with a blender. All of the ingredients in these recipes should be cut up before being juiced.
Each recipe makes 1-2 servings.
Classic Apple-Carrot-Ginger Juice
This juice is popular because it is yummy and full of goodness. The apples provide a healthy dose of fiber—Eating Well explains that there are about 4 grams of fiber goodness in a medium-sized apple. Apples and carrots both offer antioxidants. Carrots are rich in the antioxidant beta-carotene, which is beneficial to skin health. Ginger  is good for your circulatory system and aids digestion.
1 orange (It's a good idea to peel oranges as their peel is quite bitter and may cause indigestion.)
1/2-inch chunk of ginger
2 or 3 carrots
You can also sweeten this (or most any) juice with a tablespoon of organic honey. Honey provides an energy boost and can even be helpful in curbing seasonal allergies.
Citrus Salvation
Citrus fruits are full of vitamin C, which is known to support the immune system. This is helpful any time of year and especially when the weather turns chilly and extra cold germs are lurking.
1/2 lime
1 orange (peeled)
1/2  grapefruit (It's a good idea to peel grapefruits for the same reason as oranges; the skin can be quite bitter tasting and cause indigestion.)
2 kiwis
​Workout Replenisher
Drinking this juice is a great way to prepare for or recover from a workout. The electrolytes in the celery and carrots this juice includes are rehydrating and are excellent fuel for exercise and muscle regeneration. Like many fruits, the pears offer fiber and antioxidants.
1 pear
4 carrots
3 celery stalks
Blackberry Beet Juice
This juice is rich in color and nutrition. Beautiful beets offer potassium, which supports your nervous system's functioning, and manganese, which supports many body systems and organs including your liver and bones. Blackberries reduce inflammation and as the Huffington Post explains, "[t]he dark blue color ensures blackberries have one of the highest antioxidant levels of all fruits." I recommend also adding in some pre-bought organic lemonade or, alternatively, one lemon with some honey, to round out the flavor of this juice.
2 beets
1 cup blackberries (about 70-80 berries)
1 cup organic lemonade, or one lemon and one Tablespoon of honey
Mint Mango Lassi
A lassi is not a juice in the strictest sense but this mango mint lassi is included as a juicy and tasty smoothie type of drink. Lassis originate from India and often contain yogurt and spices. Mangoes have plenty of vitamin A, which is beneficial for your eyes, and also are good for digestive function. You can use either yogurt (with healthy probiotics) or soy milk (which can lower cholesterol), depending on your diet and preference. The mint leaves give a unique, cooling punch to the lassi flavor and chia seeds or cardamom are other popular additions. This beverage can be made in a blender.
1 cup yogurt (traditionally plain)
1 cup frozen mango or 1 ripe mango if you plan to use extra ice
1 teaspoon honey
1/2 cup chopped mint leaves
1/2 cup ice
I hope these hydrating organic juice suggestions bring a burst of flavor, nutrition, and rejuvenation to your day.