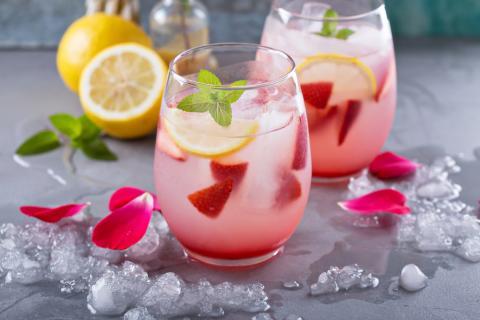 Why not make some beautiful rose lemonade to honor the queen of all flowers? You can sip this delicious drink on your patio, at a picnic, or in your backyard. Relax and enjoy!
Rose Lemonade
Ingredients:
5 1/3 cups water 
1 cup granulated sweetener of your choice 
1 1/3 cups fresh squeezed lemon juice (from 6 to 7 organic or locally grown lemons) 
2-1/2 to 3-1/2 teaspoons rose water (use less for a subtler flavor)
Note on rose water: Rose water can be easily made at home or purchased pre-made at the store. To make some, collect the petals from 3 to 4 full rose heads, making sure they weren't grown with pesticides. Place them into a saucepan with 1 pint of water, then heat gently until the roses are transparent. Make sure it doesn't boil. Cool the mixture, strain, and press any liquid out of the petals using the back of a spoon. Once you have the liquid, you can refrigerate it up to 1 week. To use it in this recipe, let it chill and cool in the fridge before adding it to the lemonade. 
Directions: 
Start by combining the water and sugar in a saucepan and heating them over medium low heat. Stir until the sugar has completely dissolved, then remove from heat and let it cool.  
Add it to a pitcher and stir in the pre-squeezed lemon juice. When your rose water is cold enough, add it to taste as well. Chill before serving or add a few ice cubes. Enjoy!
Ways to use roses this summer
Roses are blooming everywhere in the summer months. Don't miss out on their seasonal beauty. You can create several different DIYs and recipes using roses. Here are some of our favorite ones:
Make rose infused honey—All you need to do is stuff a small- to medium-sized jar full of pesticide-free rose petals, then pour raw honey over it. Seal it and store it away from sunlight. Let it infuse for several weeks for the strongest flavor. You can eat the rose petals too, or strain them out—makes a great addition to toast! 
Rose infused oil—You can use this in lotions, salves, creams, soaps and balms: Whatever you like. To make some, just fill a canning jar about half way up with dried rose petals. You can dry rose petals by leaving them out in the sun a day or two, or using a dehydrator. Cover with twice as much as your favorite carrier oil (olive, sweet almond or sunflower work great).  For quick results, set the uncovered jar into a small saucepan filled with a few inches of water, then heat over a low burner for a few hours. Remove from heat and strain. For a more traditional infusion, cap the jar and tuck it away in a cabinet for 4 to 6 weeks, shaking occasionally.  
Rose bath salts—If you love baths, this is definitely worth making. All you'll need is a cup of Epsom salt, a few drops of rose essential oil, a handful of crushed, dried rose petals, and 1/4 cup of sea salt (though that is optional). Just combine the Epsom salts with the sea salt, dried rose petals, and rose essential oil in a bowl. Once evenly distributed, pour it into a jar of your choice. To use it in your bath, add a tablespoon or two directly to the hot bath water. If you'd rather not make a mess, you can add some into a cloth muslin bag and plop it into the water. Enjoy!  
Rose petal jam—You can also make your own rose petal jam from pesticide-free roses. You'll need about 3 cups of lightly packed dried rose petals (or 5 cups of fresh petals), 4 cups of water, 1 teaspoon of cardamom seeds, 1/2 cup of lemon juice, 1 cup of organic cane sugar, 4 teaspoons of pectin, and 4 teaspoons of calcium water. First, prepare calcium water then set it aside. In a small bowl, mix the sugar and pectin, setting it aside. Now add the rose petals, cardamom, and water to a saucepan. Bring it to a low simmer over medium heat until the pigment of the petals is leached into the water. This should take approximately 15 to 20 minutes. Remove from heat and pour the mixture through a fine mesh sieve into a bowl, squeezing as much liquid as you can from the petals. If necessary, add more water to maintain 4 cups of liquid. Transfer the rose infusion back into the saucepan and add the lemon juice and calcium water. Bring it to a gentle simmer and slowly add in pectin/sugar mix, stirring until dissolved, then remove from heat. Add it to a glass jar and you're done! When it cools, it's ready to eat.  
Rose lip balm—Make your own rose lip balm! What could be more beautiful? Just be sure to make the rose oil I mentioned earlier before attempting this recipe. Once that's made, pour a tiny amount (about 2-1/2  tablespoons) of rose oil into a small bowl. Add a bit of alkanet or beetroot powder (as much as you want—natural colorant) to form a thick, dark paste, then set it aside. Place 1/2 tablespoon castor oil, 1 tablespoon of beeswax and 1 tablespoon of shea butter in a heat proof jar or measuring cup. Put this in a pan filled with a few inches of water and bring the water just under a simmer. Heat until the wax and shea butter has melted, then remove from heat and stir in the alkanet paste. Add a little at a time until your desired color is reached. You can also add some peppermint essential oil if you'd like, but this is completely optional. 
What are some ways you like to enjoy the versatility of roses?