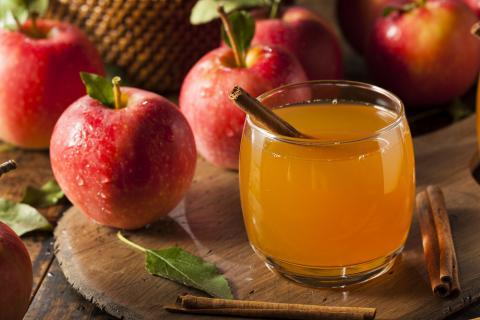 Warm juices seem like a bit of an oxymoron—isn't the point of cold-pressed juices to keep the nutrients cold? Yes, but gently warmed juices can still deliver a host of nutrients while also feeling more in line with the seasonal changes: in this case, cooler days, darker mornings, wind, rain, and in some cases, snow. Try out these fall-inspired warm juice recipes for a boost of antioxidants and a no-need-for-an-extra-sweater guarantee.
To heat the drinks, once juiced place the liquid into a small saucepan and heat on low for 5 minutes. The juice should be warmed but never heated to a boil. 
Anti-Inflammatory Spiced Apple Cider
This juice offers an abundance of nutrients and minerals from apples (just take a look at their phytonutrient content) and pears (high in antioxidants and flavonoids.) The real stars of the show, however, are fresh ginger and turmeric roots which relieve pain, improve circulation, and reduce inflammation. For a more authentic spiced apple cider, add a stick of cinnamon as the juice is slowly warming for a spicy-sweet taste.
Ingredients
1 granny smith apple, quartered
1 pear, quartered
1 inch fresh ginger root
1 inch fresh turmeric root
Fall for Your ABCs
One of the most classic juice recipes is apple-beets-carrots; in fact, thanks to the natural sweetness of these fruits and vegetables, even the most juice-adverse will likely ask for more upon trying the ABC. Inspired by one of my favorite breakfast spots, The Sunflower Cafe, the Fall for Your ABCs adds an autumn twist. Adding beets to your juice can improve your muscle strength, while carrots have a healthy amount of vitamin A for eye health. 
Ingredients
1 granny smith apple, quartered
1 red or golden beet
2 carrots
1 inch ginger root
Green Leaves Aren't All Gone
Sure, most green leaves might have been replaced by reds and yellows of fall, but there's no reason to stop juicing your greens—vegetables, that is. This juice is a variation of pear cider, but made green. If spinach isn't available, choose another mild leafy green like Swiss chard or collard greens.
Ingredients
1 pear, quartered,
1/2 lemon
1 inch fresh ginger
1 cup spinach
Pumpkin Pie
This isn't your traditional pumpkin pie, but it's a great everyday alternative to achieve that same pumpkin taste. Pumpkin is, perhaps surprisingly, easily juiced. Carefully quarter the pumpkin, then peel away the hard skin and deseed. To juice, cut the larger pieces into one-inch squares. Most pumpkin varieties will work, though kabocha and pie pumpkins offer a sweet flesh that works well in this recipe. If pumpkin isn't available, try sweet potato which offers similar beta-carotene-packed nutrition. As the juice is warming, add a cinnamon stick, vanilla bean (the real kind), and a dash of maple syrup.
Ingredients 
1 cup pumpkin, peeled and deseeded (or sweet potato)
1 granny smith apple, quartered
1 inch ginger root
Cold & Flu Season Buster
This recipe falls along the lines of a typical juice shot, so expect it to be strong! Raw lemon juice provides a surge of vitamin C and garlic is a potent immune-booster. Ginger adds a spicy kick while the optional apple can make the juice a little more palatable. 
Ingredients
1 granny smith apple, quartered
1 lemon
1 inch ginger root
2 cloves garlic
Have you tried warm juice before? What do you think? Let us know in the comments below!