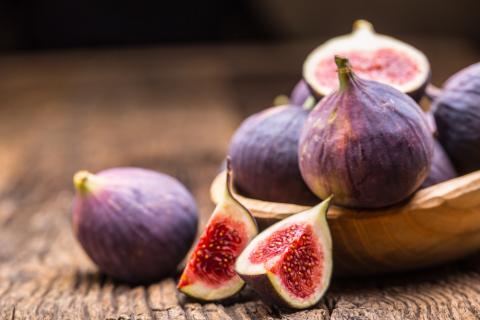 The best of the summer harvest may be over, but the best of fall is yet to come. Pumpkin-colored persimmons, sweet apples, succulent figs, and dusky-blue squashes are ripe in September, with many of these autumn favorites available until well in November.
Fall fruits and vegetables often pair well with heartier foods like puddings and pies (apple crumble, anyone?), but they work just as well in healthier dishes. 
Not sure where to start? Here's the produce to seek out this fall, whether at your farmer's market, the grocery store, or your own backyard.
1. Apples
Apples aren't an exotic fruit by any means, but not everyone is aware of the multitude of apple varieties available. Common apples include Braebrun, Honeycrisp, Fuji, and Golden Delicious, but other options can offer a crisper skin, a better cider, a juicier pie, or even a more pleasing look. Try Wickson, a tart yellow-red variety that works well in ciders, or Hidden Rose with its pale green skin and bright pink flesh. Heirloom varieties are often the best place to start, and no collection will be greater than your local farmer's market. 
Apples are packed with phytochemicals, fiber, and a surprising amount of vitamin C. 
2. Figs
At the end of every summer, I can take a walk around my neighborhood and spot a dozen fig trees, their fruit bright green, deep purple, and at times bursting so ripe I can see the red flesh. Figs come in several varieties, but the most common include Black Mission, Brown Turkey, Calimyrna, Adriatic, and Kadota. Like apples, some varieties are better served fresh by themselves, while others work well on cheese platters, in yogurt and salads, or even on the grill and drizzled with honey. Better still: try this recipe for fig and ginger jam. 
Figs contain rich amounts of magnesium, potassium, calcium, and copper, antioxidants, and natural sugars that pair well with long hikes. 
3. Persimmons
I wait all year for persimmons to appear. These orange fruits are distinctive in taste, and depending on the variety, are very different in texture. Hachiyas are longer with tapered ends; Fuyus, on the other hand, are squat and round and resemble a tomato in structure. The former are particularly astringent and are best enjoyed when very soft while the latter can be peeled or sliced. Personally, I enjoy simply biting into Fuyus like I would an apple. Other varieties to look for include Sharon and Tanenashi. Try spicing up a traditional cookie with this grain-free persimmon cookie recipe or slice into salads, puddings, or compotes.
Persimmons are high in vitamin A, C, and K, and loaded with antioxidants. 
4. Winter Squash
Winter squash is readily available year-round, but I think of it as being a fall food. Squashes are nutriense-dense, carb-heavy, and work well with warming spices like cinnamon, clove, and nutmeg. Dozens of squash varieties exist, but of those, ten are most commonly used. These include Butternut, Acorn, Kabocha, Spaghetti, Delicata, Sweet Dumpling, Hubbard, Red Kuri, Turban, and Pie Pumpkin. Squash can be enjoyed in pies, bread, salads, and even smoothies. Of course, no fall is complete without a bowl of squash soup. 
Winter squash are high in vitamin A, carotene, and contain significant amounts of C, E, and B6.
5. Pomegranate
When I lived in San Diego, pomegranate trees were as common as apple trees are in the Northwest. I would gently pluck a baseball-sized pomegranate from a branch, then split the fruit with my bare hands. Inside were hundreds of plump red arils, tiny pomegranate seeds sweet and tart and ready to be eaten on the side of a trail. Luckily, pomegranate are available across the country from grocery stores and, in some cases, farmer's markets, in the fall. The most common variety is the leather-skinned Wonderful, but some digging can yield more unique—and often more delicious—kinds. Look for Angel Red, Granada, or my favorite, Sweet Pomegranate. Enjoy them in smoothies, marinades, and pilafs, or take advantage of their naturally bright flavor and simply remove the seeds and eat them by the handful. 
Pomegranates are high in antioxidants and vitamin C and filled with fiber.