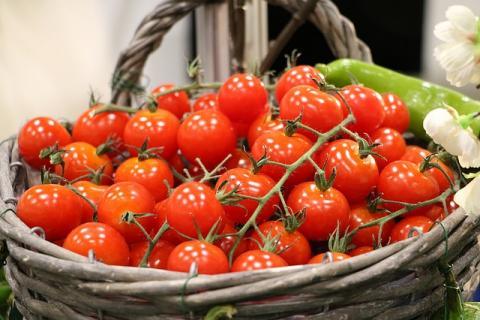 Alas, here we are with only a few weeks until the official end of summer, it's time for all of us farmers' market fanatics to showcase the best of the summer bounty. I want to share with you a few of my personal, quick, go-to recipes that feature my favorite summer farmers' market finds. The beauty of the summer bounty is that the fruits and vegetables are so flavorful they require little work to truly be celebrated. With that said, many of these suggestions can be done with less than 10 minutes prep time.
Tomatoes:
Tomatoes are my favorite things about summer. One of my top weeknight summer meals to feature these juicy, sweet beauties is the Caprese stack.
Here's what you'll need:
●Heirloom tomatoes
●Fresh Mozzarella in water
●Fresh basil
●A high grade balsamic vinegar
●Himalayan salt
Simply slice heirloom tomatoes and fresh mozzarella into ½ inch thick rounds and stack them in a height of four layers. Add basil, a drizzle of balsamic and Himalayan salt to finish.
The great thing about these is that you can easily make them in large quantities, making them a colorful option for serving guests.
Okra:
Certainly popular in exotic cuisines as well as American Southern cooking, Okra is often a puzzling ingredient to most people elsewhere should they come across it at their local market. I am often asked how to cook it and typically my response is, "I don't." Well, in truth, I do like to cook it here and there; however, my favorite way to enjoy this curio veggie is pickled. Pickling and canning can be a laborious task; however, there is something known as the "quick pickle" of which I am a great fan. It's not that it instantly pickles, rather it requires no canning or sealing and the best part is that you can enjoy them for a month after making them.
Here's what you'll need:
About 1 lb. of okra pods, sliced lengthwise
6 tablespoons kosher salt
2 cups water
3 cups distilled vinegar
2 tablespoons of preferred sweetener 
1 onion, sliced
2 bay leaves
1/2 teaspoon cayenne
1 teaspoon mustard seeds
3 cloves garlic, minced
Toss the okra with 3 tablespoons of the salt. This will remove excess water and the goo from the pods. Drain in the sink or over a bowl for 1 hour. Combine the water, vinegar, remaining salt, sweetener, bay leaves, cayenne and mustard seeds in a nonreactive (clay, enamel, glass, plastic, or stainless steel) saucepan over medium heat. Stir to dissolve the sweetener and salt. Bring to a boil. Add the onions and garlic and cook for 1 minute, until they are slightly soft. Rinse the okra in cool water to remove the salt and any goo that has accumulated. Put the okra in a large glass, ceramic or plastic bowl. Pour the brine mixture over the okra and stir. Let cool. Cover and refrigerate for at least 6 hours before using. Can be stored in airtight containers in the refrigerator for up to 1 month.
Eggplant:
My love affair with these purple spongy vegetables is more recent. I never had been taught how to cook eggplant in a way that I found texturally pleasing, nor a way that didn't result in an oil drenched bite. However, I have found that salt sweating and then grilling is the best way to develop that ideal non-spongy eating experience that still showcases the eggplant. By salting the eggplant first and removing the water, you create a denser pre-cooked product which rids you of the spongy problem. Grilling allows you to simply baste the slices in oil as to avoid oil dredged eggplant that is common with other cooking methods.
Here's what you'll need:
●Japanese eggplant, sliced lengthwise in ½ -¾ inch slices
●Kosher salt
●Olive oil
●2 cloves minced garlic
Salt eggplant slices on both sides and let sit 1 hour. Meanwhile, add minced garlic to olive oil in bowl, let sit while eggplant sweats. When ready to grill, baste both sides of eggplant slices with garlic infused olive oil and grill until tender.
Blackberries:
Blackberries are often the overlooked berries with less of the fanfare than that of their rasp-, blue- and straw- counterparts. However, the blackberry is the wild, sun soaked berry, the one many of us grew up picking whilst avoiding its thorns in the garden or on a hike in the forest. Thus, in truth, I find this berry to be the true berry of summer. Admittedly, this is not necessarily a "healthy" recipe, though certainly healthier than many other dessert options out there. I call this the "Three B Crumble". The balsamic brings out the sweetness of the berry and the verdant basil accentuates the berry flavor through contrast.
Here's What You'll Need:
1st group:
●2-3 stone fruits, chopped
●2 pints blackberries
●2 tbsp balsamic vinegar
●1 large handful of basil leaves, chopped
●¼ cup honey - or more, depending on tartness of your berries
2nd group:
●5 tbsp flour
●3 heaping tbsp brown sugar
●1 stick cold, grass-fed butter
Preheat oven to 400 degrees Fahrenheit. Combine the non-dry ingredients in an ovenproof dish and mix together.
Instructions for 2nd set: Cut butter into flour and sugar; rub with your fingers to make a chunky, crumbly mixture. Sprinkle over top of the fruit and bake 30 minutes until golden and bubbly.
I hope these recipes will help you celebrate the gifts that abound from the summer harvest as much as they do me.