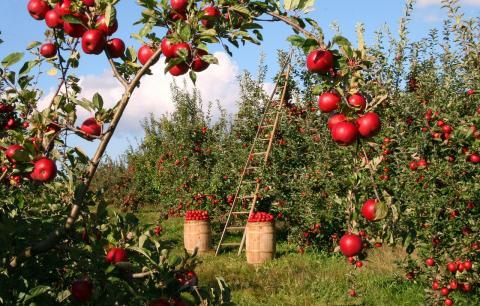 During the fall season, you're bound to see apple-themed everything pretty much everywhere. There's good reason for that: Apples are seasonal to fall! They come into their peak during the months of September and October, so it's imperative to get all the fresh apples you can (either from apple picking or the farmers market)! Not sure what to do with all those apples, once you have them? We've got you covered: Here are five apple recipes that you need to try this autumn.  
Apple Cider 
Who doesn't love a cup of apple cider in the fall? Instead of buying some at a store, try making your own. That way, you'll know exactly what's in it and you can adjust the amount of sugar to your liking.
Ingredients: 
1 orange 
10 medium apples (Honeycrisp and Granny Smith apples work great) 
3 cinnamon sticks (or 1 tablespoon of ground cinnamon) 
2 teaspoons ground cloves (optional – makes the cider a little spicier) 
2-3 tablespoons of granulated sugar (add more if you like a sweeter cider) 
Directions: 
Peel the orange and wash the apples. Cut the apples into quarters and place all the ingredients into a large stock pot. This includes the cinnamon, ground cloves, and sugar.
Once everything has been added, turn the stove up to high heat and bring everything to a simmer while stirring occasionally. Once it's simmering, reduce the heat to medium-low, cover, and let it simmer for 2 hours.
Mash the fruit using a large spoon to release its liquids. Then, allow the cider to cook for 1 hour more.
Once the hour is up, very slowly strain the chunky liquid through a fine mesh sieve into a large pot or pitcher. You can discard the solids. Strain the cider one more time to rid any other solids. Serve the cider warm. You can also chill it in the fridge. It should keep in the fridge for 5 to 7 days. If you'd like to warm it up, warm it up on the stove. Enjoy! 
Apple Cider Donuts 
Feeling peckish? A donut might help with that. While it's not the healthiest choice, making your own donuts is definitely better: You have full control of the ingredients list! Plus, these apple cider donuts are hard to refuse.
Ingredients: 
1 cup of apple cider 
½ cup grated peeled apple 
2 tablespoons of sugar 
1 egg 
¼ teaspoon of nutmeg 
¼ teaspoon of vanilla 
2 cups dry pancake mix 
Directions: 
Simmer the apple cider until it's reduced to about ¼ cup, then let it cool. Mix it with the grated peeled apple, sugar, egg, nutmeg, vanilla, and pancake mix.
Once all ingredients have been properly mixed together, roll the dough into several 1-inch balls and deep fry in 375 degrees F oil. Drain and then roll in cinnamon sugar.
Applesauce 
The applesauce you find in the store probably has high fructose corn syrup in it. Yuck. Try making your own applesauce instead. It's really not too hard and guaranteed to taste better.
Ingredients: 
4 pounds of apples 
1 cup of water 
3 tablespoons of sugar 
A pinch of salt 
2 tablespoons butter  
Directions: 
First, wash and quarter the apples. Then, place them in a big pot and simmer with the water, sugar, and a pinch of salt. Partially cover them until soft, which should take 25 to 30 minutes. Remove it from heat, then pass it through a food mill. Last but not least, whisk in the butter and mix well. It's ready to be served, or can be chilled and served at a later time.  
Apple Butter 
Have you ever heard of apple butter? It's much healthier than traditional butter, that's for sure. It's vegan and totally delicious. Perfect for those who love putting butter on toast, but want a healthier twist.  
Ingredients: 
½ cup sugar 
4 cups of applesauce 
½ teaspoon cinnamon 
Directions: 
Cook the sugar in a large skillet until it's a deep amber color. Then, add the applesauce, along with the cinnamon. Cook, stirring occasionally, until it reduces by half, which should take about 30 minutes. 
Apple Cake 
If you love cake, or are heading to a party, I suggest trying this cake. It's delicious and fairly simple to make. It perfectly captures the feel of autumn and satisfies your sweet tooth at the same time. 
Ingredients (for cake): 
1 ¼ cups of flour 
3/4 cup of sugar 
½ teaspoon of salt 
1 apple (shredded) 
½ teaspoon of baking soda 
1 teaspoon of vanilla 
2 eggs 
½ teaspoon of cinnamon 
½ cup vegetable oil 
½ teaspoon of nutmeg 
½ cup of milk (any type, dairy or non-dairy) 
For cake frosting: 
8 ounces of cream cheese 
½ stick of butter 
1 cup of confectioners' sugar 
1 teaspoon of lemon juice 
1 teaspoon of vanilla 
A pinch of salt 
Directions: 
Whisk the flour, sugar, baking powder, baking soda, cinnamon, nutmeg, and salt together in a bowl. 
Then, shred 1 apple and squeeze it dry. Whisk it with the eggs, vegetable oil, milk, and vanilla. Fold into the flour mixture.
Bake in a buttered 9-inch round pan at 350 degrees F for 20 minutes. Let it cool. 
To make the cake frosting, beat the cream cheese, stick of butter, confectioners' sugar, lemon juice, pinch of salt, and vanilla together. Then, spread on the cake. Serve and enjoy!