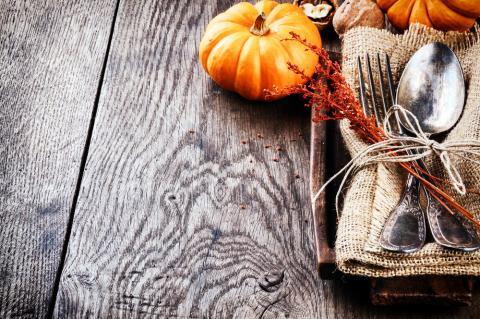 Turkey is synonymous with Thanksgiving in the United States and Canada, but Thanksgiving can be enjoyed by omnivores, vegetarians, and vegans alike with a few simple swaps. I'm not talking about replacing the carved turkey with Tofurkey, nor impressing your uncle with whipped tofu instead of his favorite mashed potatoes. Instead, try out these Thanksgiving recipes for a healthier, happier, more animal-friendly meal whether you love meat or don't. 
Making the Swap
There are several easy-to-make swaps that anyone can make, regardless of their dietary preferences. Most of us can benefit from more vegetables and less processed choices. PETA offers a Vegan Thanksgiving Swaps Cheat Sheet with ideas like almond milk in place of cow milk, flax seeds in place of eggs, vegetable broth in place of chicken or beef broth, and vegan cheese in place of dairy cheese. For more seasonal options that focus on fall foods like squash, pomegranates, mushrooms, and pumpkins, try these recipes…
Tempeh-Stuffed Acorn Squash
This recipe is easy to make and even easier to consume. Almost any squash can be used here, but avoid spaghetti squash due to the spaghetti-like texture when baked. I like acorn, but kabocha, butternut, delicata, and even pumpkin work too. The recipe also utilizes several fall players, like pomegranate, walnuts, and sage. 
Serves 4. Recipe adapted from this. 
Ingredients
2 acorn squash (or squash of choice)
1 package tempeh
1 cup vegetable broth
2 cups spinach
1/2 cup walnuts
1/2 cup red onion
1-2 Tablespoons dried or fresh sage
2 Tablespoons pomegranate seeds
2 cloves garlic
2 Tablespoons olive oil
Directions
Set oven to 400°F. Cut squash in halves and scoop out seeds. Place squash on sheet pan, drizzle with 1 Tablespoon oil and bake for 45 minutes until mostly soft. 
Cut tempeh into equal-sized squares and finely chop red onion. Set pan on medium-heat then add oil once warmed. Add red onion and garlic and sauté for 2-3 minutes then add tempeh until both are slightly browned. Add vegetable broth, dried sage, then turn down heat and simmer on low until broth is mostly absorbed. Remove from heat and mix in walnuts and spinach. 
Remove squash from oven and gently spoon the tempeh mixture into the squash. Broil in oven for 10 minutes—ensure it does not burn! Remove from oven, let cool slightly and sprinkle with pomegranate seeds.
Mashed Cauliflower with Roasted Garlic & Chanterelles
The star of the show here should be chanterelles, but the roasted garlic is the real stand-out and may have your uncle focused more on his mashed cauliflower than talking politics at the dinner table.
Ingredients
1 head cauliflower
1 head garlic
2 cups chanterelles (button mushrooms work well here, too, if chanterelles are unavailable)
olive oil
2 Tablespoons dried thyme
Directions 
Set oven to 400°. Drizzle cauliflower with olive oil and roast for 45 minutes to 1 hour (cauliflower should be easily pierced with a fork). 
On a separate sheet, liberally drizzle garlic head with olive oil and sprinkle with salt. Roast for 1 hour.
In the meantime, clean chanterelles and heat a pan on medium heat. Add oil when warmed, then add chanterelles. Saute on medium heat until soft and tender. Remove from heat and mix in dried thyme.
Once cauliflower and garlic is roasted, remove from oven. Place cauliflower in a blender or bowl, then mix until mostly soft. Carefully remove garlic cloves then add to blender or bowl. Mix once more until garlic mostly blended. Stir in chanterelle-thyme mix and season with salt and pepper to taste. 
Pumpkin Pie In-A-Cup
Who doesn't love pumpkin pie? My personal favorite part is the crust, but this recipe has made me reconsider my choice. Better still, this recipe doesn't require any cooking and can be made with ingredients you probably already have in your fridge. I like to serve this in used yogurt pots, but any glass or ceramic ware will look nice.
Ingredients
1 can pumpkin
2 teaspoons pumpkin pie spice
1/4 cup maple syrup
1 pot coconut yogurt
1/4 cup granola (try this festive recipe!)
Directions
In a bowl, mix canned pumpkin, pumpkin pie spice, and maple syrup. 
Layer pumpkin pie mix with coconut yogurt in jars.
Top with granola and garnish with fresh mint.