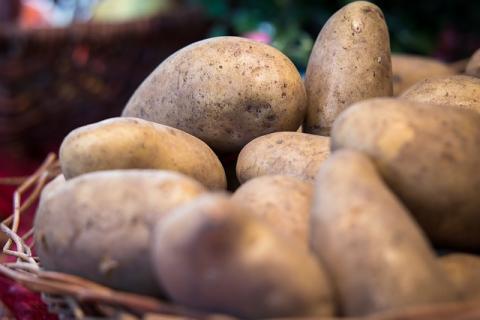 In the first part of this series, I introduced my favorite vegan appetizers to make for your Thanksgiving meal, and now I'm including my favorite sides. The garlic mashed potatoes are extremely easy to make vegan. In fact, if you have guests that want traditional garlic mashed potatoes (with cream and butter), you can still cook all the potatoes together and simply separate them when it's time to add the butter and cream. The balsamic-roasted carrots are also a delicious salty-sweet treat for everyone at the table to enjoy. Both of these sides are easy to make, while also packed with flavor.
Stay tuned for the third part of this series, which includes my favorite vegan entrees for the big day.
Garlic Mashed Potatoes
Ingredients
6 yukon gold potatoes
4 garlic cloves, peeled
3 tablespoons vegan butter
1.5 teaspoons salt
1 teaspoon black pepper
2 tablespoons chopped parsley (as a garnish)
Directions
Place potatoes and garlic cloves in large pot, and cover with water. Bring to a boil and cook for about 20 minutes or until fork tender (practically falling apart).
Drain the potatoes and garlic except for a small amount of water (a couple tablespoons) to use in lieu of cream.
Mash the potatoes, garlic and leftover water in the pot until smooth. Add butter, salt and pepper, and mix to combine. Adjust the seasoning as needed.
Top with chopped parsley, and serve immediately.
Balsamic-Roasted Carrots
Ingredients
12 carrots, tops removed and peeled
2 tablespoons olive oil
2 tablespoons balsamic vinegar
1 teaspoon salt
1 teaspoon pepper
2 tablespoons chopped parsley
Preheat oven to 400 degrees Fahrenheit, and grease a cookie sheet with olive oil.
Rinse the carrots, pat dry and place in a bowl.
Directions
In a small glass bowl, stir the balsamic vinegar and olive oil until the ingredients combine perfectly. Pour the balsamic mixture over the carrots, and mix thoroughly until evenly coated.
Place the carrots on the cookie sheet, and roast for about 30 to 40 minutes or until golden brown. Flip the carrots about halfway through the baking process.
Remove carrots and transfer to a serving platter. Sprinkle with salt, pepper and parsley, and serve immediately.