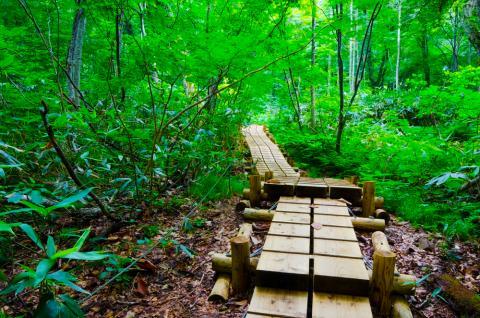 Have you heard of forest bathing? It doesn't involve a bath, and doesn't necessarily need water. Instead, it involves nature, yourself, and time to breathe.
Forest bathing, more commonly known as shinrin-yoku, originates in Japan. Translated literally, it means forest-bath, hence the Westernized name. Forest bathing began as a defined movement in the 1980s, but we've been doing it for all of humankind. After all, being in nature is necessary for us as humans (and we have the proof to back it up; check here, here, and even here as examples of why it matters) and there's proof—the benefits are numerous. Shinrin-yoku.org lists several reasons why forest bathing is beneficial. These include boosting the immune system, reducing blood pressure, reducing stress, increasing focus, improving sleep, increasing energy, and even improving mood. More recent research even points to a deceased cancer risk and lowered cortisol levels.
These are big claims, but there's proof to back it up. A 2009 study looked at the effects of forest bathing by measuring participants' physiological and subjective feelings after visiting one of 24 forests. The results showed lowered pulse rate, blood pressure, and cortisol, and increased parasympathetic nerve activity. A 2007 study found that forest bathing increased immune system function and the expression of anti-cancer proteins, while a 2011 study demonstrated psychological and physiological benefits after the young, male participants spent time forest bathing. 
Going forest bathing is easier than you think. Rather than relying on any type of specific gear, simply wear what you have, forego any electronics or music, and head into the forest. The author of Forest Bathing: How Trees Can Help You Find Health and Happiness, Dr. Qing Li, suggests that the best way to start forest bathing is to use your five senses. Do you hear birds when you step into the forest? Can you smell the fresh scent of pine and cedar or taste the dampness of recent rainfall? What does the bark of an old tree or the soft green of a young moss feel like? Finally, what do you see?
While walking is the easiest way to practice forest bathing, some people prefer to bring activities into the forest. Try yoga or tai chi, or for a less strenuous activity, try journaling or sketching, or bring a picnic full of wholesome foods and enjoy it under the canopy. Hiking can be considered forest bathing, but it's important to distinguish it from exercise. Are you out of breath? Straining to get up that hill? You're going too fast. Amble along, stop to examine a flower, and rest as needed. 
Not sure how to start? Here are some tips to remember when you go forest bathing:
Aim to go when you aren't in a rush.
Don't have a plan. Find a friend or go solo and simply move where you are called. If this sounds wishy-washy to you, better reason to simply let go and relax.
Find an area that's heavily treed. If the best you can do is a local park, then take advantage of that and seek out a spot without outside noise or large amounts of people.
If the ground looks clear, take off your shoes and try earthing.
Bring along a journal so that as soon as you finish forest bathing, you can write down your thoughts and what you noticed.
Have you heard of forest bathing? Would you try it? Let us know in the comments below!