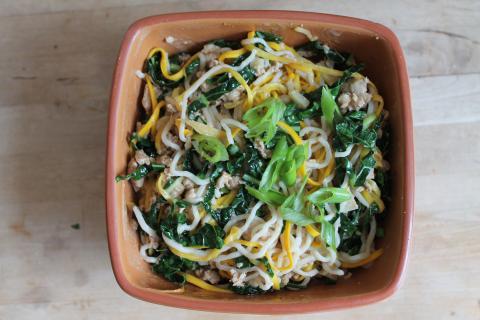 Anyone who knows me knows that I'm a peanut butter addict! Whenever I see something with peanut sauce on a menu, I just HAVE to get it—it doesn't even matter what it is. I love peanut butter so much that I decided to elevate my obsession to another level and make a batch of peanut noodles. The great thing about peanut noodles is that the recipe is super simple. All you need to do is mix the sauce, dump on the noodles and add your meat and veg. So quick to make and super easy. 
I scoured the internet for a basic recipe—I wanted the kind of peanut noodles I order all the time at my favorite Thai place. Most of the recipes involved peanut butter, some kind of vinegar, and soy sauce. I took this all-powerful trifecta and ran with it. I replaced the vinegar with lime juice because I just like the taste of it and find lime to be complementary to Thai flavors. In place of rice noodles, I used Konjac noodles which you can usually find at Japanese ramen restaurants. They have the same taste and texture as ramen noodles except they're made from konjac flour (which is a root vegetable) and oat fiber. They don't require any cooking: you just open the package, drain them, and eat! Instead of the ground pork often found in the dish, I used ground turkey (but the dark meat so it was still super rich and meaty). Yellow zucchini noodles added a burst of sunny color and kale strips pushed the veggie quota over the edge.
This recipe makes more than enough for 4 people. It's a great one-skillet meal that comes together super fast.
Peanut Sauce with Noodles & Veggies
Ingredients
1 package of Konjac noodles, or rice noodles (about 2 cups, cooked)
1/2 head of black kale, cut into thin strips
2 yellow zucchinis, cut into noodles
1 lb. of ground turkey (dark meat)
4 cloves of garlic
1 1-inch piece of ginger, cut into matchsticks
For the sauce:
1/2 cup natural smooth peanut butter
1/3 cup soy sauce (or tamari)
3 Tablespoons lime juice
2 teaspoons red chili flakes
2 Tablespoons honey (or other liquid sweetener of your choice)
1 1/4 cups of water
Directions 
1. Set a non-stick skillet to medium heat.
2. While the pan is heating, mix the sauce ingredients together. It'll seem really watery, but that will all get evaporated in the pan. Set the sauce aside.
3. Cook the noodles (if using rice noodles) by dunking the dry noodles in boiling water for about 4 minutes. Set aside.
4. Add the turkey, ginger, and garlic to the pan. Break up the turkey and stir around for about 5-10 minutes, until thoroughly cooked through.
5. Add the peanut sauce, zucchini, and kale. Bring down the heat to low and simmer until the water has evaporated and you're left with a thick and creamy sauce.
6. Add the rice or Konjac noodles and toss until coated. Serve with some cilantro or green onions on top. Makes enough for 4 people.